Close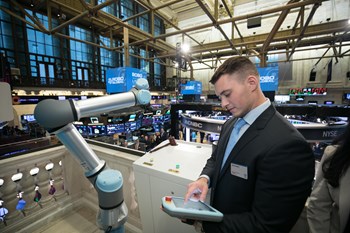 2018/10/17
ユニバーサルロボットのコボット、ニューヨーク証券取引所でクロージングベルを鳴らす
「UR5」はニューヨーク証券取引所でベルを鳴らした初のコボットとなり、急成長する協働ロボット市場を明示する存在に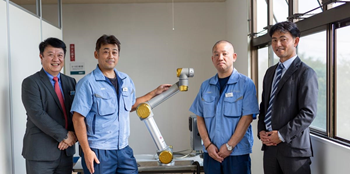 2018/10/12
ユニバーサルロボット、 ゴールドエディションのコボットを地域ごとに選ばれた幸運な1社に無償提供
累計出荷台数が25,000台を超えた記念として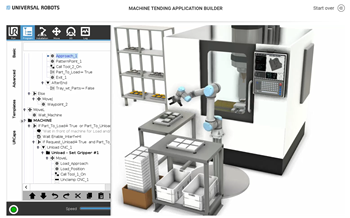 2018/09/10
Universal Robots launches Application Builder at IMTS making robot cell configuration and deployment fast and easy
Three popular collaborative robot applications available at launch include machine tending, assembly and packaging, with step-by-step guidance on end effectors, programming, machine interfaces and more.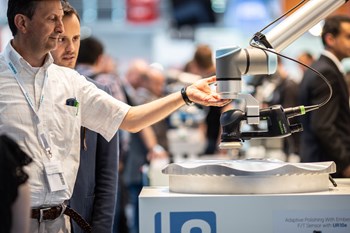 2018/08/29
Numerous exhibitors at IMTS 2018 pick Universal Robots for collaborative robot applications
With more than 20 exhibitors at IMTS 2018 in Chicago, North America's largest manufacturing show, choosing collaborative robot arms from Universal Robots for their show applications, Universal Robots will have a strong presence at this year's show.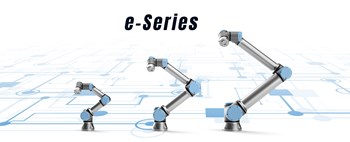 2018/06/19
ユニバーサルロボット、e-Seriesを発表!
協働ロボットのパイオニアであり、産業用ロボットのリーディングカンパニーであるUniversal Robots(ユニバーサルロボット、本社:デンマーク オーデンセ)は、Automatica 2018で、新しい主力製品として協働ロボット、e-Seriesを発表します。Automatica 2018は2018年6月19日(火)から22日(金)までドイツのミュンヘンで開催されます。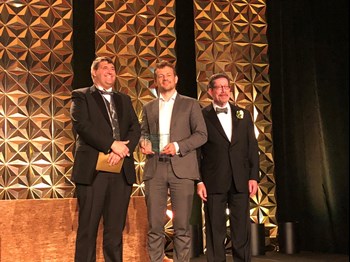 2018/06/14
Universal Robots wins Frost & Sullivan's "Manufacturer of the Year" award
The Manufacturing Leadership Council, representing around 1,000 senior-level members from many of the world's leading manufacturing companies, has awarded Universal Robots "Manufacturer of the Year" as well as three other prestigious awards.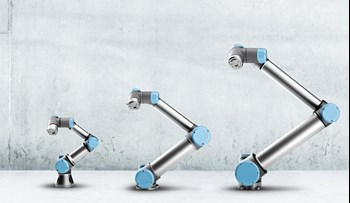 2018/05/31
Universal Robots strengthens its partner network in Malaysia
Universal Robots expands its partner network in Malaysia with four new partners targeting a Malaysian automation and control market worth USD 409 million by 2021 according to Frost & Sullivan.
2018/05/23
Esben Østergaard wins Engelberger Award 2018 – the "Nobel Prize" of Robotics
Esben Østergaard, Co-founder and CTO of Universal Robots, has been awarded the automation industry's most prestigious honor, the Engelberger Robotics Award 2018. The award is often referred to as the "Nobel Prize" within robotics.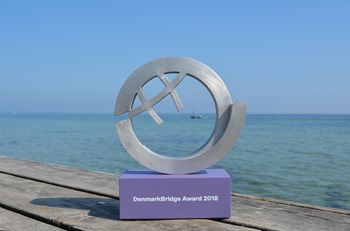 2018/05/01
Universal Robots wins the DenmarkBridge Award 2018
Universal Robots receives the prestigious DenmarkBridge Award 2018. The Award was presented by His Royal Highness Crown Prince Frederik at the Annual Meeting of The Danish Growth Fund.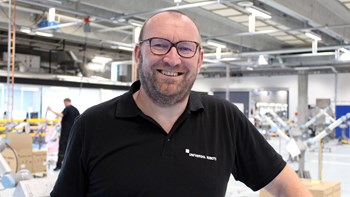 2017/11/15
Universal Robots hires Chris Wilson as Vice President of Commercial Operations
Following rapid global market expansion Universal Robots has announced Chris Wilson as Vice President of Commercial Operations. In his new position, Chris Wilson oversees all commercial support functions.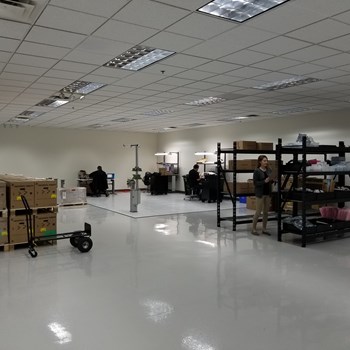 2017/11/13
Universal Robots opens new repair center enabling overnight deliveries in North America
4,300 sq ft (400 m2) center adjacent to Universal Robots' Americas headquarters in Ann Arbor, Michigan, now ready to cover North and South America with repair services, offering overnight delivery of spare parts in North America.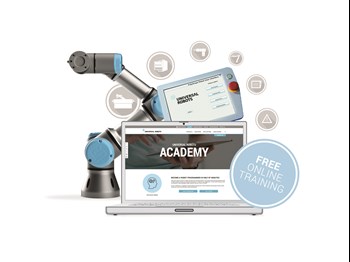 2017/10/13
Universal Robots expands Universal Robots Academy
Universal Robots expands its free online training, adding three new modules that step up complexity by teaching users how to create and work with coordinate systems, variables and conditional statements, and how to use the cobot's wizard to easily create a program for packaging.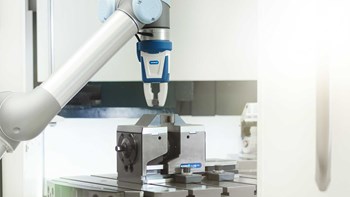 2017/09/26
IFR World Robotics Report 2017
The World Robotics Report 2017 from IFR forecasts accelerated robot installation growth of 18% for 2017.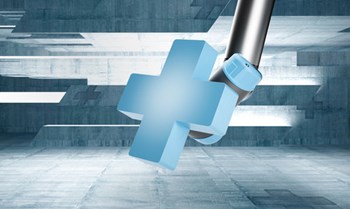 2017/05/24
Universal Robots+ rated "Best of 2017" in Germany
The German industry award, INDUSTRIEPREIS 2017, has rated Universal Robots' online ecosystem Universal Robots+ "Best of 2017" in the category "Services".
2017/04/05
Universal Robots at the Hannover Trade Fair 2017
Four Universal Robots integration partners provide insights into the broad spectrum of the application potential offered by UR3, UR5 and UR10 at the Hannover Trade Fair 2017.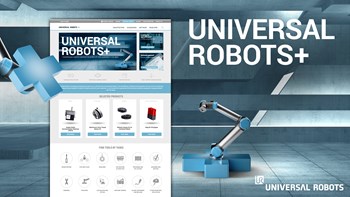 2017/03/16
Universal Robots shows rapidly expanding ecosystem at Automate 2017 in Chicago
Universal Robots will exhibit 7th axis capability, new force torque sensors, augmented reality-assisted assembly, and a wide range of other new partner solutions certified to work flawlessly with UR cobots through the Universal Robots+ platform at Automate 2017 in Chicago.

2017/03/07
Universal Robots keeps delivering high double-digit growth (1)
Universal Robots has continued its rapid expansion worldwide with a growth rate of 62% from 2015 to 2016. The company that pioneered and commercialized collaborative robot (cobot) technology continues to leverage its first mover advantage and market leadership position.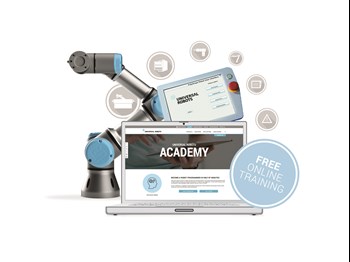 2017/02/16
Universal Robots launches Universal Robots Academy offering free online training
Universal Robots has developed online training modules to further lower the automation barrier. The hands-on modules are offered free of charge, open to all, and built to deliver hands-on learning via interactive simulations to maximize user engagement.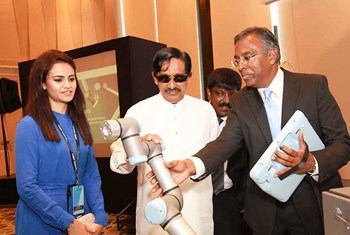 2016/11/10
Universal Robots launches in Sri Lanka
The pristine island of Sri Lanka with its serene Buddhist culture will make-way for a technology pit-stop for one of the world leaders in the concept of 'collaborative robots'.