Close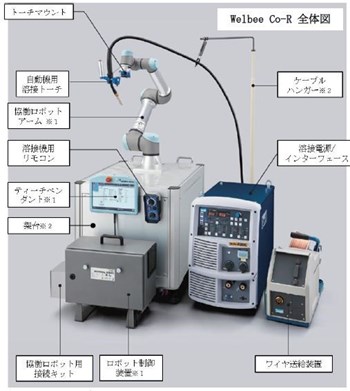 2020/08/03
ユニバーサルロボット、ダイヘン社の溶接現場向け協業ロボットシステムを、 UR+製品として認証
~中小規模の溶接現場におけるロボット導入の課題を解決、自動化を促進~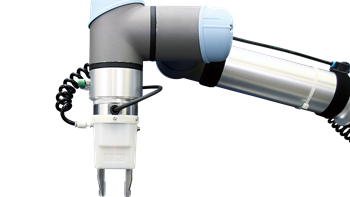 2020/07/06
ユニバーサルロボット、SMC社の協働ロボット用エアチャックを UR+製品として認証
~シンプルな部品搬送工程の自動化が、ますます容易に~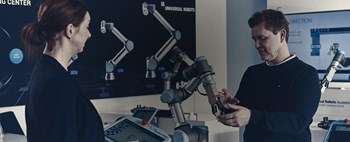 2020/06/30
ユニバーサルロボット、初級者に特化した 協働ロボット導入ウェビナーシリーズを開催
ロボット導入初心者から上級ユーザー向けまで、ニーズに応じた多彩な内容を展開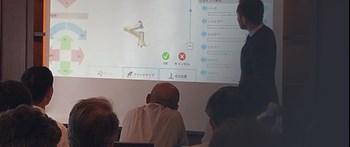 2020/05/21
協働ロボット導入ウェビナーを開講
ロボット導入初心者から上級ユーザー向けまで、ニーズに応じた多彩な内容を展開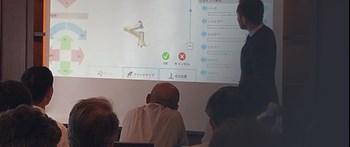 2020/04/30
ウェビナー開催「協働ロボット導入を検証するための5つの質問」
5/8(金)13:30-14:15 中小規模の製造業がロボットを導入するのに最も重視すべき5つの項目を解説
2020/03/17
Business Update from Universal Robots in the Light of COVID-19
Universal Robots has taken several proactive steps in order to keep our staff safe, our supply chain flowing, and our production running. Our corporate staff and field staff are available to assist in these challenging business circumstances.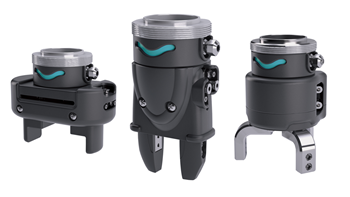 2020/03/16
CKD社の 空気圧式グリッパ3機種をUniversal Robots+製品として認証
容易に取り付け、交換可能な空気圧式グリッパ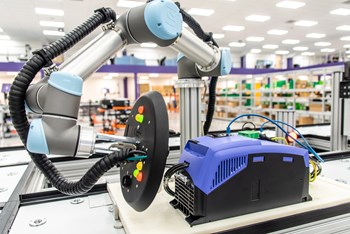 2020/02/22
英国Invertek Drives社が製品検査工程にユニバーサルロボットを導入
絶えず切り替わるデバイスの検査を、UR5が実行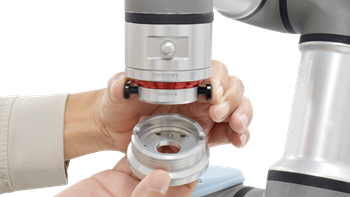 2020/02/10
コスメックの マニュアルロボットハンドチェンジャーを、Universal Robots+製品として認証
ワンタッチでロボットハンドの取り付けが可能に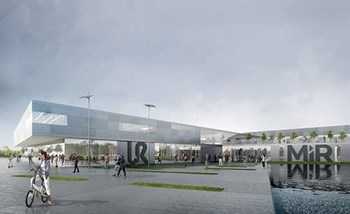 2020/02/07
デンマークに、世界最大の協働ロボットハブがオープン
デンマークのサイモン・コレラップ産業ビジネス金融担当大臣は、2020年2月4日(デンマーク時間)、デンマークのロボット産業を牽引するモバイル インダストリアル ロボット社(以下、MiR社)とユニバーサルロボット(以下、UR)にとって新たな本拠地となる施設の建設を発表しました。両社は、デンマークのロボット関連企業や大学の集積地となっているオーデンセ市に、32,000 m2におよぶ「コボットハブ」を設立し、共有します。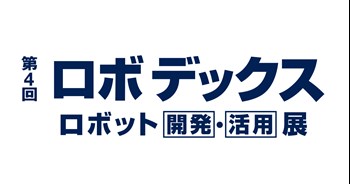 2020/02/05
第4回 ロボデックス展に出展
研磨、塗布など 日本初公開のデモを展示 2/12(水)~2/14(金) 東京

2019/12/06
2019国際ロボット展(IREX 2019)に出展
3つのアプリケーションゾーン(組立/梱包/マシンテンディング)の展開と 日本発UR+製品を展示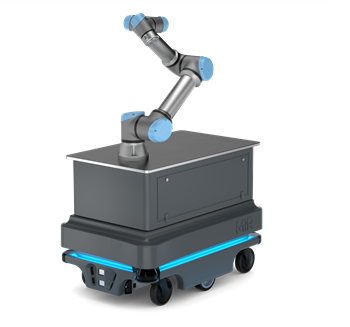 2019/11/26
AGVや自律型モバイルロボット向け DCバッテリー駆動の協働ロボットを発表
協働ロボットを活用した工程間で、ロボットの移動を自動化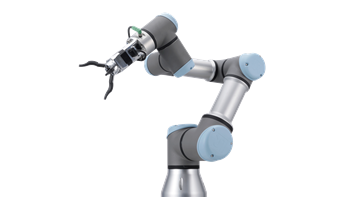 2019/11/19
ASPINA(シナノケンシ)の電動ロボットハンドを、Universal Robots+製品として認証
UR+グリッパとして日本初の認証製品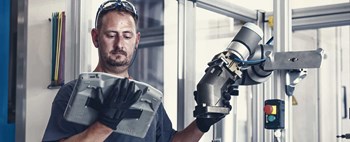 2019/09/17
ユニバーサルロボット、可搬重量16KGの協働ロボットを発表
 可搬重量16kgのUR16eが、協働ロボットの用途を拡大  9月18日(水)より開催の名古屋ロボデックス展で初公開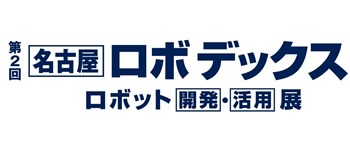 2019/09/13
名古屋ロボデックスに出展
9月18日(水)~9月20日(金) ポートメッセ名古屋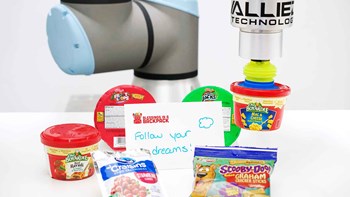 2019/08/29
Universal Robots Solves Random Picking Challenge at Pack Expo 2019 in Las Vegas
Universal Robots solves random picking challenge, providing food for at-risk youth, at this year's Pack Expo which takes place September 23-25 in Las Vegas.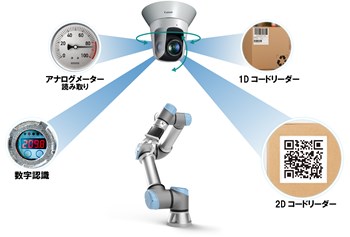 2019/08/27
キヤノンの画像処理ソフトウェアをユニバーサルロボット+製品として認定
・キヤノン製ネットワークカメラとユニバーサルロボット製協働ロボットの連携で、応用分野を拡充 ・日本企業が開発した初のUniversal Robots+製品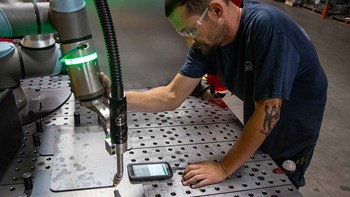 2019/08/26
Hirebotics Selects Universal Robots to Power the BotX Welder
The new for-hire BotX Welder - developed by Hirebotics and utilizing Universal Robots' UR10e - lets manufacturers automate arc welding with no capital investment, handling even small batch runs not feasible for traditional automation.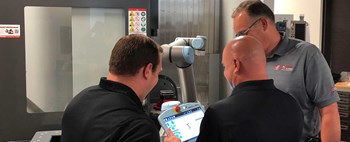 2019/08/08
New Universal Robots and Phillips Corporation Partnership
New Universal Robots and Phillips Corporation, the largest global distributor of best-selling Haas CNC machines, partnership eases integration with popular Haas CNC machine tools and offers a fast track to spindle uptime with safe, easy-to-use, and cost-effective cobots.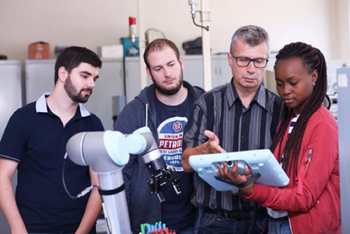 2019/07/11
Universal Robots Launches Authorized Training Centers in North America
North American distributors of Universal Robots are now opening Authorized Training Centers, offering classes spanning basic to advanced programming of Universal Robots' cobots. The first four Training Centers have launched, with another nine to follow by end of 2019.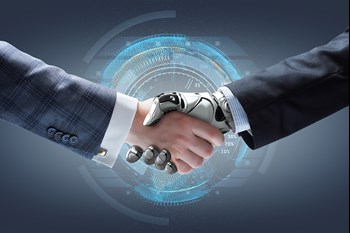 2019/06/25
Recommendations from the Danish Robot Industry Could Create 25,000 Jobs in 2025
For the last 20 years, Denmark has succeeded in making it one of the world's leading robot nations. New figures show great potential for future growth, exports and employment within the Danish robot industry. The robot industry wants to realize this potential and today launches five recommendations for the newly elected Danish Parliament.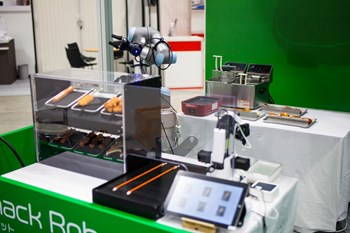 2019/06/18
ユニバーサルロボット、国際食品工業展(FOOMA JAPAN 2019)に出展
コンビニエンスストアでの調理を想定した「Hot Snack Robot」や、さまざまな外観・形状の食品パッケージを安定してピッキングする「ばら積みピッキング」を実演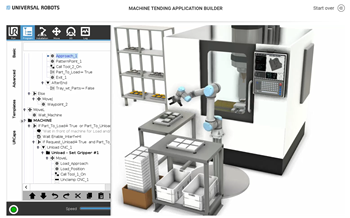 2019/06/18
ユーザーのアプリケーション構築を手助けする 新ツール「アプリケーションビルダー」和文版をリリース
最適なロボットとエンドエフェクタの選択や、周辺機器とのインターフェース方法をガイド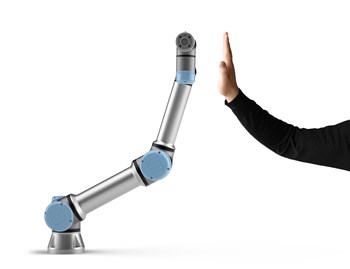 2019/05/15
Sepro Group and Universal Robots Announce New Cobot Partnership
Sepro Group and Universal Robots have signed an agreement to collaborate within collaborative robotics and industrial automation. Sepro Group will integrate its Visual Control System with UR cobots. The Visual Control Platform was developed by Sepro especially for robots used in plastics injection-molding machines.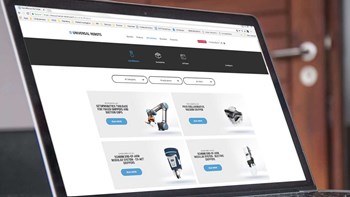 2019/05/08
Universal Robots Certifies ATI's New Automated Tool Changer
Universal Robots adds ATI's QC-11 to our rapidly-expanding portfolio of certified UR+ plug-and-play products. The automatic tool changer is featured at ATI Industrial Automation's Automation Expo May 9, 2019, at ATI's headquarter in Apex, North Carolina, US.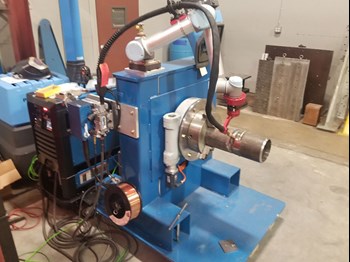 2019/05/03
ARC Specialties社、AI搭載の新パイプ溶接システムの「黄金の腕」としてユニバーサルロボットを採用
ARC Specialties社はAI(人工知能)、最新型センサー、ユニバーサルロボットの協働ロボットUR5を組み合わせ「高い繰り返し精度で完全溶込パイプ溶接を行う」という難題を克服しました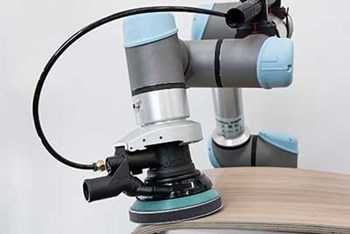 2019/04/08
New Grippers for Collaborative Robots at Automate 2019
Universal Robots adds SMC Corporation as UR+ partner and certifies new grippers for Collaborative Robots at Automate 2019 in Chicago.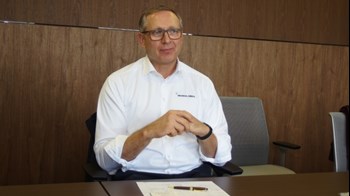 2019/03/19
先の見えない時代の投資とは?日本市場開拓に本腰
ロボットダイジェスト2019年2月25日 公開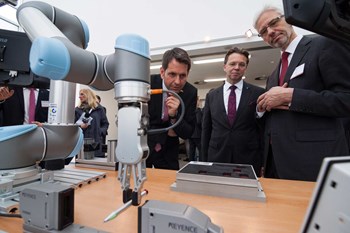 2019/03/11
Meet Universal Robots at the Hannover Messe 2019
Universal Robots presents flexible automation solutions for companies of all sizes at the world's largest capital goods fair, Hannover Messe, which takes place April 1-5, 2019.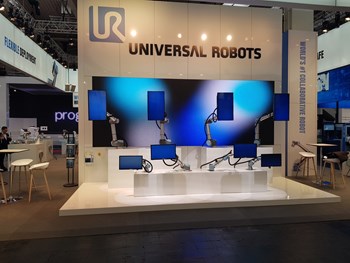 2019/03/04
Universal Robots targets manufacturers' primary business challenge at Automate 2019
At Automate 2019 in Chicago, Universal Robots targets manufacturers' primary business challenge with new solutions for fast-growing applications in industries facing labor shortages. UR will showcase new cobot-powered solutions debunking myths on what cobots can handle while also addressing industries experiencing hiring issues.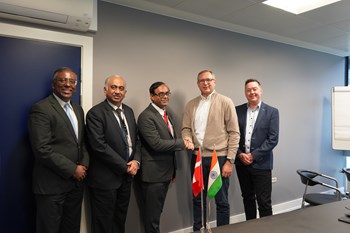 2019/02/04
Universal Robots partners with Bharat Fritz Werner in India
The partnership aims to disrupt the Micro, Small & Medium Enterprise (MSME) segment in India with top-notch automation solutions and for CNC machine tending to dramatically impact productivity, quality and working conditions.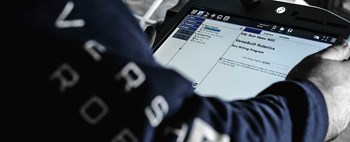 2019/01/24
ユニバーサルロボットとVersaBuilt Robotics社、 ATX Westで協働ロボットとCNCマシンをダイレクトにつなぐ新型インターフェースを発表
~Haas Automation社製CNC用新型通信インターフェースや、特許取得済みの工作物保持システムMultiGripを展示~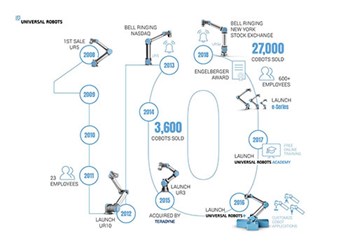 2018/12/05
ユニバーサルロボット、商業用協働ロボットの販売開始から10周年
協働ロボット(コボット)は、今や工業オートメーション分野で最も高い成長を誇る分野に。さまざまな産業でロボット導入への障壁を下げるべく、URはたゆまぬ成長を継続
2018/11/26
ユニバーサルロボット、2018年AutoRevista技術革新部門賞を受賞
スペインの大手自動車業界誌、AutoRevistaが授与する リーダー・オブ・ザ・イヤー賞をユニバーサルロボットが受賞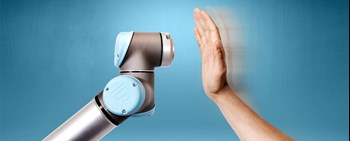 2018/11/13
Universal Robots hires more than 20 former Rethink Robotics employees
Reinforcing both companies' pioneering roles in collaborative robotics, Universal Robots welcomes more than 20 Rethink staff members, incorporating valuable expertise in engineering, product development, and customer applications.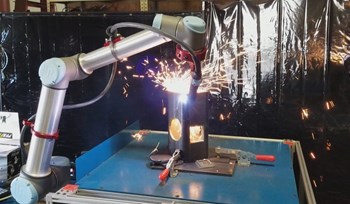 2018/11/02
First orbital sanding and plasma cutting capabilities integrated with new e-Series at FABTECH 2018
Universal Robots launches unique new offerings for metal fabricators including plug and play integration with Dynabrade orbital sanders, ARC Specialties' SnapCut, and new 7th axis capabilities from Vention. The new offerings which are all integrated with e-Series will be displayed at FABTECH 2018 which takes place November 6-8, 2018, in Atlanta.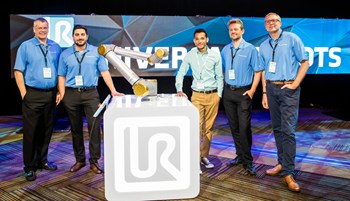 2018/11/01
Meet the winners of Universal Robots' Golden Edition Cobot
Universal Robots earlier this year announced that it is celebrating its cobot sale number 25,000 by giving away a Gold Edition Cobot. Due to huge interest from customers all around the world, Universal Robots decided to offer a Gold Edition Cobot to a customer in each of Universal Robots' geographical areas worldwide. Meet the winners here.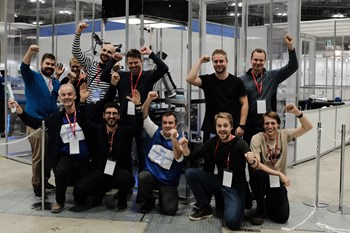 2018/10/23
南デンマーク大学、国際ロボット競技会で優勝
南デンマーク大学(SDU)のSDU Roboticsチーム、日本で開催された産業用ロボットの非公式競技会であるワールド・ロボット・チャレンジで勝利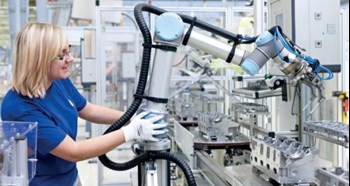 2018/10/18
国際ロボット連盟が年次レポートを発表
東京で開催中のWorld Robot Summitにおける記者発表会で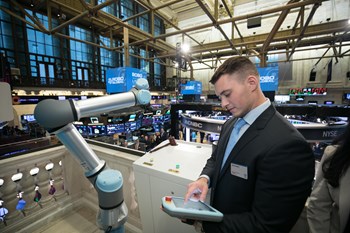 2018/10/17
ユニバーサルロボットのコボット、ニューヨーク証券取引所でクロージングベルを鳴らす
「UR5」はニューヨーク証券取引所でベルを鳴らした初のコボットとなり、急成長する協働ロボット市場を明示する存在に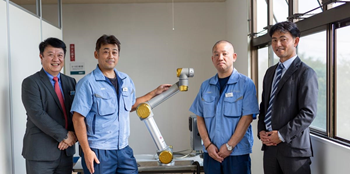 2018/10/12
ユニバーサルロボット、 ゴールドエディションのコボットを地域ごとに選ばれた幸運な1社に無償提供
累計出荷台数が25,000台を超えた記念として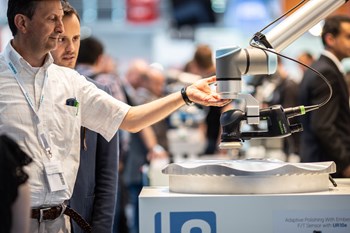 2018/08/29
Numerous exhibitors at IMTS 2018 pick Universal Robots for collaborative robot applications
With more than 20 exhibitors at IMTS 2018 in Chicago, North America's largest manufacturing show, choosing collaborative robot arms from Universal Robots for their show applications, Universal Robots will have a strong presence at this year's show.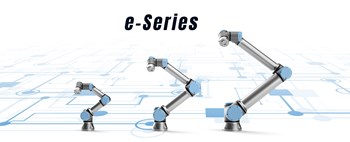 2018/06/19
ユニバーサルロボット、e-Seriesを発表!
協働ロボットのパイオニアであり、産業用ロボットのリーディングカンパニーであるUniversal Robots(ユニバーサルロボット、本社:デンマーク オーデンセ)は、Automatica 2018で、新しい主力製品として協働ロボット、e-Seriesを発表します。Automatica 2018は2018年6月19日(火)から22日(金)までドイツのミュンヘンで開催されます。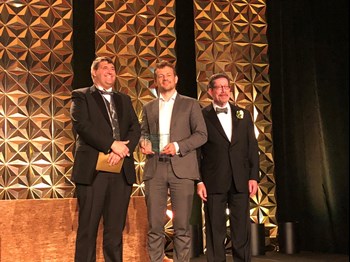 2018/06/14
Universal Robots wins Frost & Sullivan's "Manufacturer of the Year" award
The Manufacturing Leadership Council, representing around 1,000 senior-level members from many of the world's leading manufacturing companies, has awarded Universal Robots "Manufacturer of the Year" as well as three other prestigious awards.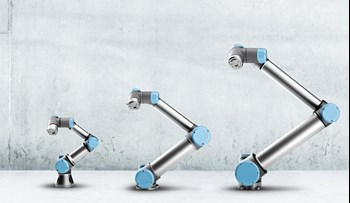 2018/05/31
Universal Robots strengthens its partner network in Malaysia
Universal Robots expands its partner network in Malaysia with four new partners targeting a Malaysian automation and control market worth USD 409 million by 2021 according to Frost & Sullivan.
2018/05/23
Esben Østergaard wins Engelberger Award 2018 – the "Nobel Prize" of Robotics
Esben Østergaard, Co-founder and CTO of Universal Robots, has been awarded the automation industry's most prestigious honor, the Engelberger Robotics Award 2018. The award is often referred to as the "Nobel Prize" within robotics.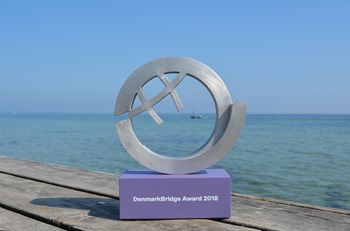 2018/05/01
Universal Robots wins the DenmarkBridge Award 2018
Universal Robots receives the prestigious DenmarkBridge Award 2018. The Award was presented by His Royal Highness Crown Prince Frederik at the Annual Meeting of The Danish Growth Fund.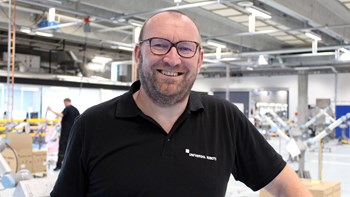 2017/11/15
Universal Robots hires Chris Wilson as Vice President of Commercial Operations
Following rapid global market expansion Universal Robots has announced Chris Wilson as Vice President of Commercial Operations. In his new position, Chris Wilson oversees all commercial support functions.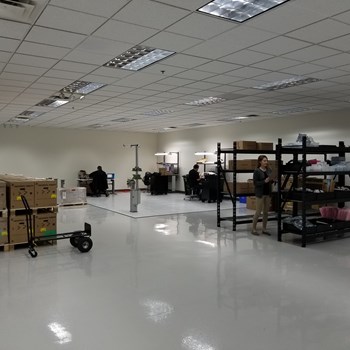 2017/11/13
Universal Robots opens new repair center enabling overnight deliveries in North America
4,300 sq ft (400 m2) center adjacent to Universal Robots' Americas headquarters in Ann Arbor, Michigan, now ready to cover North and South America with repair services, offering overnight delivery of spare parts in North America.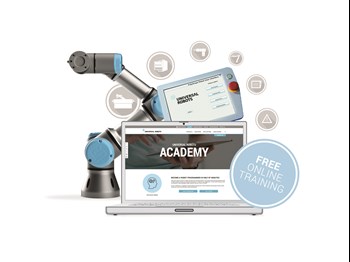 2017/10/13
Universal Robots expands Universal Robots Academy
Universal Robots expands its free online training, adding three new modules that step up complexity by teaching users how to create and work with coordinate systems, variables and conditional statements, and how to use the cobot's wizard to easily create a program for packaging.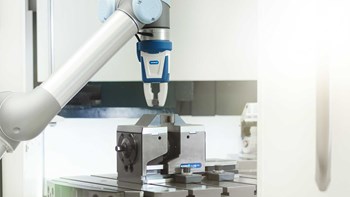 2017/09/26
IFR World Robotics Report 2017
The World Robotics Report 2017 from IFR forecasts accelerated robot installation growth of 18% for 2017.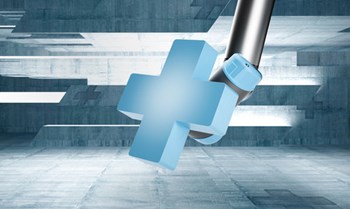 2017/05/24
Universal Robots+ rated "Best of 2017" in Germany
The German industry award, INDUSTRIEPREIS 2017, has rated Universal Robots' online ecosystem Universal Robots+ "Best of 2017" in the category "Services".
2017/04/05
Universal Robots at the Hannover Trade Fair 2017
Four Universal Robots integration partners provide insights into the broad spectrum of the application potential offered by UR3, UR5 and UR10 at the Hannover Trade Fair 2017.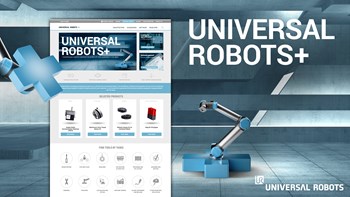 2017/03/16
Universal Robots shows rapidly expanding ecosystem at Automate 2017 in Chicago
Universal Robots will exhibit 7th axis capability, new force torque sensors, augmented reality-assisted assembly, and a wide range of other new partner solutions certified to work flawlessly with UR cobots through the Universal Robots+ platform at Automate 2017 in Chicago.

2017/03/07
Universal Robots keeps delivering high double-digit growth (1)
Universal Robots has continued its rapid expansion worldwide with a growth rate of 62% from 2015 to 2016. The company that pioneered and commercialized collaborative robot (cobot) technology continues to leverage its first mover advantage and market leadership position.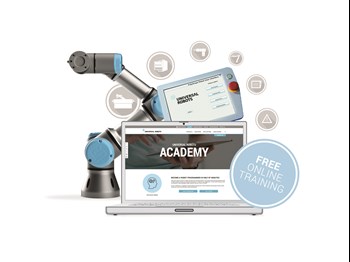 2017/02/16
Universal Robots launches Universal Robots Academy offering free online training
Universal Robots has developed online training modules to further lower the automation barrier. The hands-on modules are offered free of charge, open to all, and built to deliver hands-on learning via interactive simulations to maximize user engagement.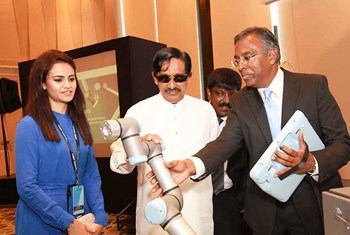 2016/11/10
Universal Robots launches in Sri Lanka
The pristine island of Sri Lanka with its serene Buddhist culture will make-way for a technology pit-stop for one of the world leaders in the concept of 'collaborative robots'.