Universal Robots UR3
The lightweight, flexible, and collaborative UR3 table-top cobot weighs only 24.3 lbs (11 kg), but has a payload of 6.6 lbs (3 kg), 360-degree rotation on all wrist joints, and infinite rotation on the end joint.
Watch video
---
" The UR3 was elegant, it was fast and smooth. We knew it had the exact precision that we really wanted. Our project reject rate has gone from double digits to below 1%. Our overhead is significantly reduced while the increase in our production is a high multiple "
---
UR3 - Ultra-flexible table-top robot
Easy programming
Learn more
Patented technology lets operators with no programming experience quickly set up and operate our cobots with intuitive, 3D visualization. Simply move the robot arm to desired waypoints or touch the arrow keys on the easy-to-use touchscreen tablet.
Universal Robots has revolutionized cobot set-up, reducing typical robotic deployment measured in weeks to a matter of hours. The average set-up time reported by our customers is only half a day. The out-of-box experience for an untrained operator to unpack the cobot, mount it, and program the first simple task is typically less than an hour.
Flexible deployment
Learn more
Don't be limited by dedicated robotics. Universal Robots are lightweight, space-saving, and easy to re-deploy to multiple applications without changing your production layout. Moving the cobot to new processes is fast and easy, giving you the agility to automate almost any manual task, including those with small batches or fast change-overs. The cobot is able to re-use programs for recurrent tasks.
Collaborative and safe
Learn more
Now you can replace human operators in dirty, dangerous, and dull jobs to reduce repetitive strain and accidental injuries. Eighty percent of the thousands of UR robots worldwide operate with no safety guarding (after risk assessment), right beside human operators. The safety system of our robots is approved and certified by TÜV (The German Technical Inspection Association).
---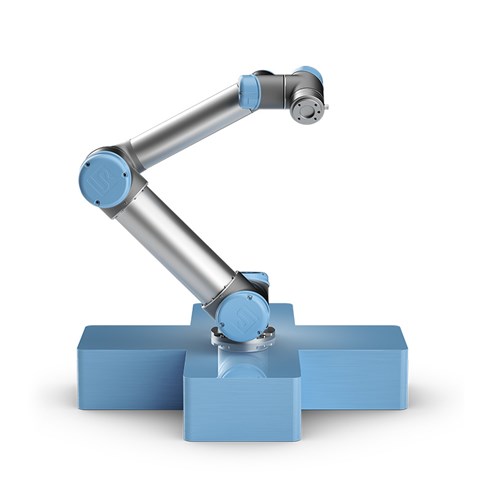 Customize the perfect robotics solution
Universal Robots+ is a showroom with Universal Robots-certified end-effectors, software, and accessories from some of the world's best developers - designed specifically to work flawlessly with our collaborative robots.
Popular end-effectors and accessories for the UR3 collaborative robot
---
---
The UR3 collaborative robot is a smaller collaborative table-top robot, perfect for light assembly tasks and automated workbench scenarios. The compact table-top cobot weighs only 24.3 lbs (11 kg), but has a payload of 6.6 lbs (3 kg), 360-degree rotation on all wrist joints, and infinite rotation on the end joint. These unique features make the UR3 cobot the most flexible, lightweight collaborative table-top robot to work side-by-side with employees in the market today.
The UR3 collaborative robot is an optimal assistant in assembly, polish, glue, and screw applications requiring uniform product quality. The collaborative table-top robot can also be used in a separate work station mounted on the table, picking, assembling, and placing parts in optimized production flows. Because of its compact form and easy programming, it's easy to switch it between tasks to meet agile manufacturing needs, resulting in low total cost of ownership and an ultra-fast payback period.
UR3 robot applications span manufacturing industries from medical devices to circuit boards and electronic components.