e-Series Cable Options
Overview of cable options for e-Series robots
Date Created: September 7th, 2020
From September 2020, it is possible to select between 4 different cable types for e-Series robot systems. 
Prerequisites: 
It is required that the e-Series robot has a Base Flange Connector, i.e. a pigtail cable with a connector close to the Base Flange of the robot. This is found on new e-Series systems, with part numbers 1103xx (eg. 110305 for UR5e w. Base Flange Connector).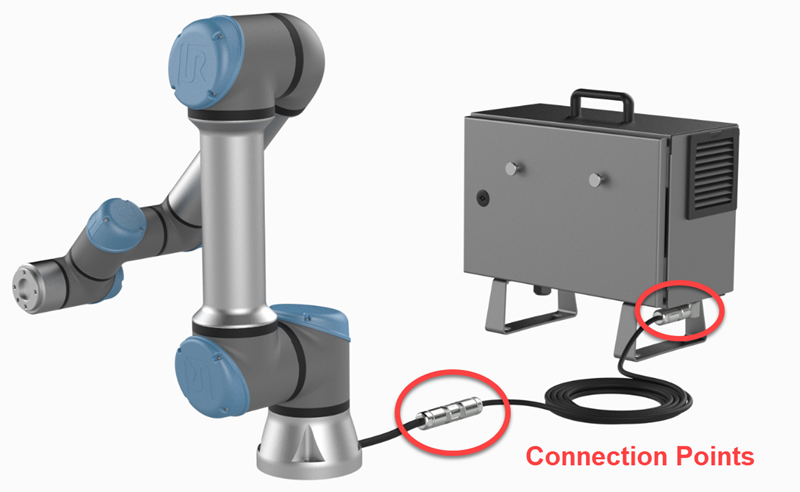 e-Series Robot System with Base Flange Connector. Part numbers 1103xx, UR5e 110305 shown.
Systems without the Base Flange Connector can be upgraded through UR Service, please consult your local partner.
Cable Options:
Universal Robots offers 4 different cable options, respectively conventional standard cables and drag-chain suitable high-flex cables.
In 6 or 12 meters of length respectively. Please find details below: 
Product
Standard cable
6 m
Standard cable
12 m
High-Flex cable
6 m
High-Flex cable
12 m
P/N
165100
165101
166100
166101
Material
PVC
PVC
PUR
PUR
Color
Black
Black
Blue
Blue
Length
6 m (19.7 ft)
12 m (39.4 ft)
6 m (19.7 ft)
12 m (39.4 ft)
Diameter (d)
12.1 mm (0.48 in)
12.1 mm (0.48 in)
13.4 mm (0.53 in)
13.4 mm (0.53 in)
Bend Radius
-
-
4 x d (static)
8 x d (dynamic)
4 x d (static)
8 x d (dynamic)
Bend Cycle
-
-
5 million
5 million
Please note that all e-Series systems with Base Flange Connector will be delivered with the 6 meter standard cable (P/N 165100) included. All other cables must be ordered separately.
Standard cable option has no official bend cycle or dynamic bend radius. Standard cable options static minimum bend radius with no failure of signal quality is: 78.0mm
High-Flex cables are drag chain suitable, and allows expansion of the robot workspace using 7th axis solutions or similar. 
The bend radius and bend cycle life must be respected for proper system function. When bend life is reached, cable must be replaced.
If used with smaller bend radius, the bend cycle life is reduced.