Welcome to the new Service Support site!
In this article you can find an overview of the changes made on the support site. You will understand how to navigate around, how to search for the solution to your problem, and how to download the support files you are looking for!
THE SUPPORT SITE NOW HAS A NEW LOOK!
As always at Universal Robots we do everything we can to improve our customers' experience, and now the support site has a new look! More intuitive and simple than ever! Among the changes we have introduced you can find:
Single Sign-On (SSO) system.
New Article and Download sections.
Filters.
New search system.
New single sign-on (sso) system
On February 5th, 2021 we have introduced Single Sign-On access to our sites. From now on you can access all Universal Robots resources with a single account and password! If you have not yet registered, you can do so from the new Single Sign-On (SSO) page.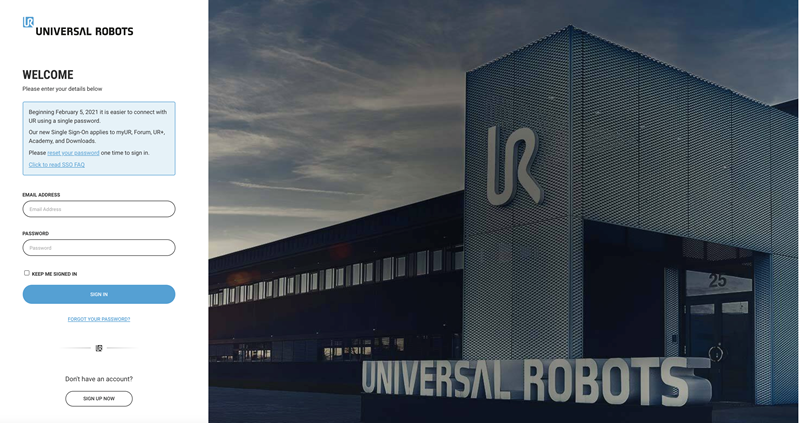 We have consolidated the access directory so users will be able to sign into these systems with the same set of credentials. Our new Single Sign-On applies to:
myUR
Academy
Downloads
UR+
Forum
I had a login with one or more of those sites. What does this mean for me?
Next time you log into any of these systems you will be asked to reset your password. Your username and new password will now log you into the various gated systems on UR's website.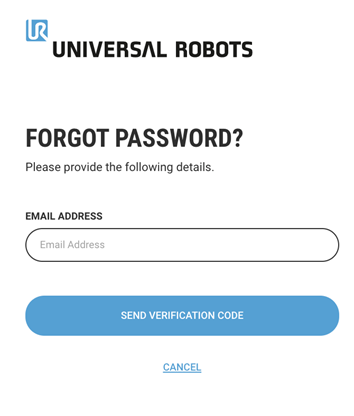 What happens to my user profile in each system?
The SSO will allow you to log in using the same credentials. Individual systems like the UR Academy still have user profile information that is unique to that system. These user profiles will all remain unchanged.
Does this mean I automatically get access to invite-only systems like myUR Customer Portal?
No. The SSO will allow you to sign into UR's website, but certain systems will still require that you request access. Some systems have special requirements that do not allow access without request.
Articles and downloads
Now the article and download sections are all new. It has never been easier to find what you are looking for! Using the search bar you can find relevant results in all sections of the site and, if you want, you can explore in detail the section of the site that you are looking for.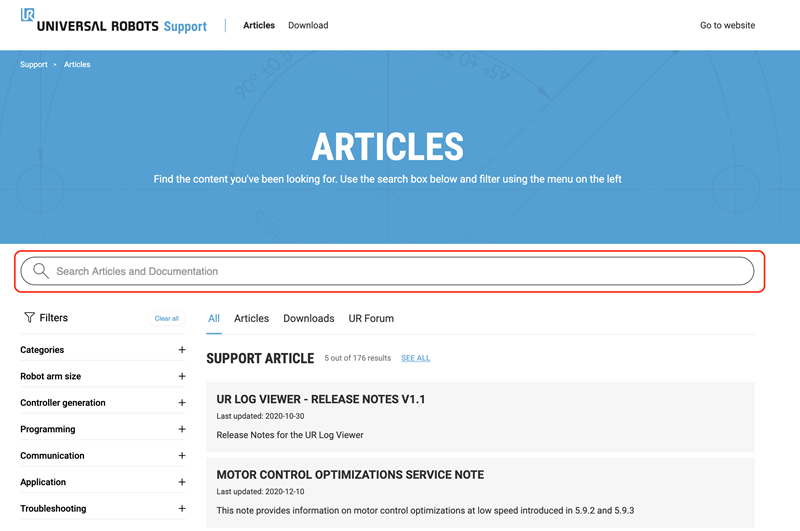 how to use the Filters
In the side section of the site you can find the filters. After selecting the category you can narrow your search to what you are looking for by selecting the most appropriate filters.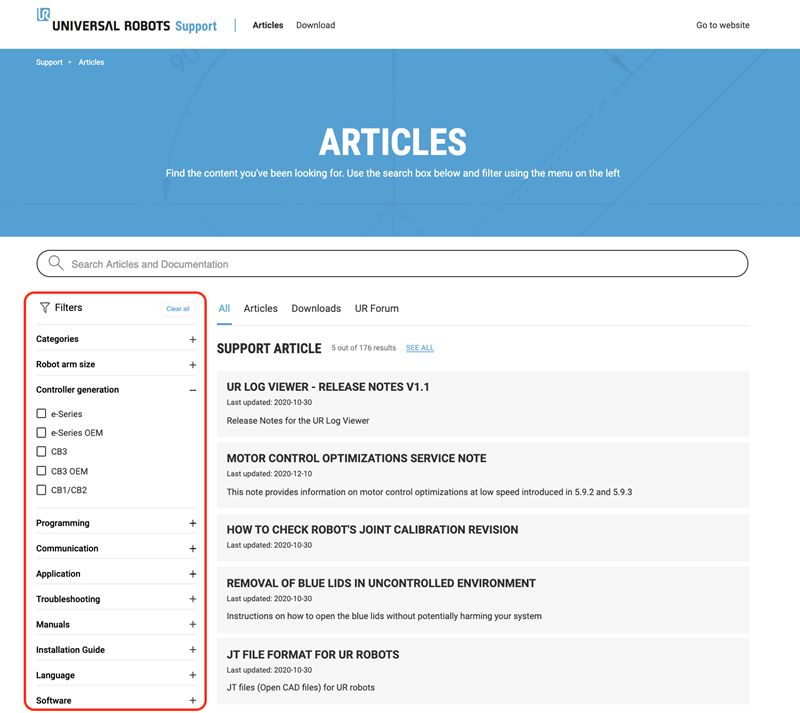 how to find an article
When you select a filter, the other categories will update accordingly to show you only the most relevant ones! Select the filters you are interested in and access the resource you are looking for: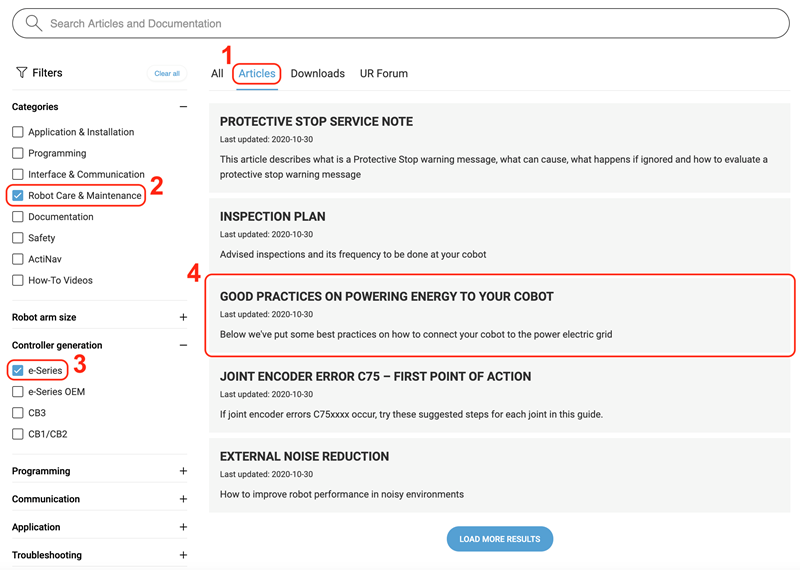 how to download a resource
Similar to articles, to find a download you can use filters in the same way. Select the filters that are right for you and go to the desired resource: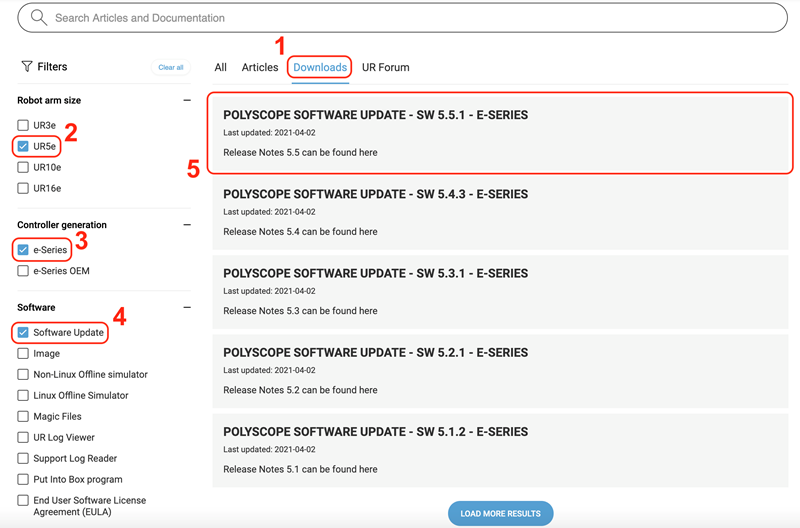 After you have selected the resource you are looking for you can download it by pressing the "download" button.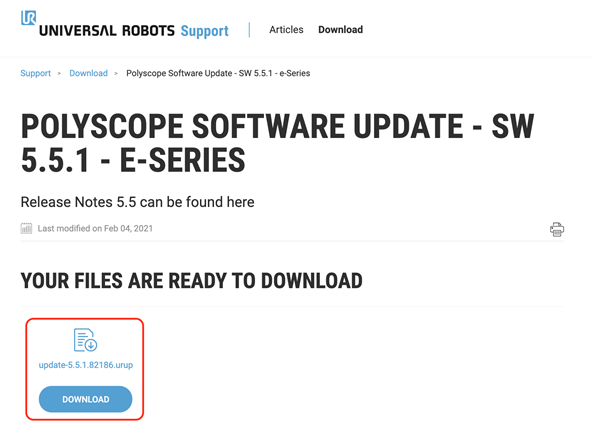 Login required downloads
Some of our downloads are protected. In that case you may be required to sign in with your personal account in order to download the resource.

UR forum
The UR Forum is a place for robot enthusiasts of all skills and levels to connect, empower, ask questions, share, and learn.