Support Article for 3PE Teach Pendant
Teach Pendant with 3-Position Enabling Device - 3PE TP
Created: October 26th, 2020.
Updated: March 1st, 2021.
For e-Series robots only.
use The 3PE Teach pendant with e-Series Polyscope
SW 5.9.5 or above
If you want to use a 3PE TP with your e-Series robot, please update to Polyscope's latest version.
INTRO
From November 2020, new e-Series robots are available for purchase with a 3PE Teach Pendant. The 3PE Teach Pendant is also available as a spare part/UR+ accessory, and is compatible with all e-Series robots.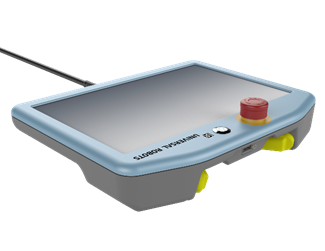 What is a 3-Position Enabling Device?
A 3-Position Enabling Device (3PE) is a protective device that is widely used with industrial robots. It is active only when the robot is in manual mode. As a manually operated protective device, it allows robot movement when it is continuously activated (held in the centre-ON position). When de-activated (released or fully compressed), the enabling device initiates a safeguard stop and prevents initiation of operation. After fully releasing the 3PE, the control system enables motion to be initiated after the user presses the 3PE to the centre-ON position (activated).
With the UR e-Series 3PE Teach Pendant, de-activating the enabling device initiates a Category 2 stop (according to IEC/EN 60204-1) while the robot is in manual mode.
Why did Universal Robots make a 3PE Teach Pendant?
We believe we can offer a better user experience by integrating the 3PE device into the Teach Pendant than is possible with an add-on device. There are several advantages over an add-on 3PE device, including:
Simple plug-and-play installation with no additional wiring needed

Full mechanical integration: 3PE Teach Pendant can be mounted on the standard e-Series Teach Pendant mounting brackets

Full software integration: the 3PE Teach Pendant is natively supported in Polyscope 5.9.3 or higher but is ONLY to be used with 5.9.5 or higher.

No URCap needed.
Ergonomic Design
The 3PE Teach Pendant has two 3PE switches to enable comfortable, ergonomic use with either the left or right hand.

Software Integration
The 3PE switches are fully integrated into the Polyscope user interface. A single press-and-hold action enables robot motion, while the Freedrive function is accessed by a double click and hold action, giving the user a simple one-button interface. This is available and to only be used on SW 5.9.5 and above (Contact your local Universal Robot's for access and guidance on downloading the SW5.9.5 or above containing the 3PE resources).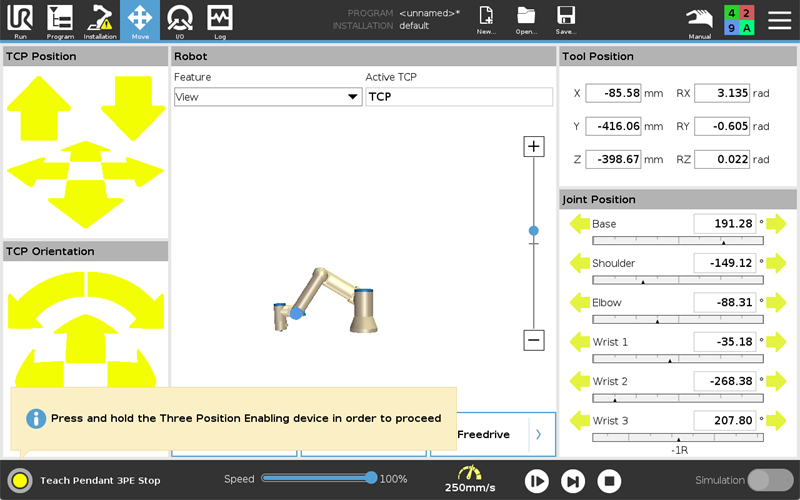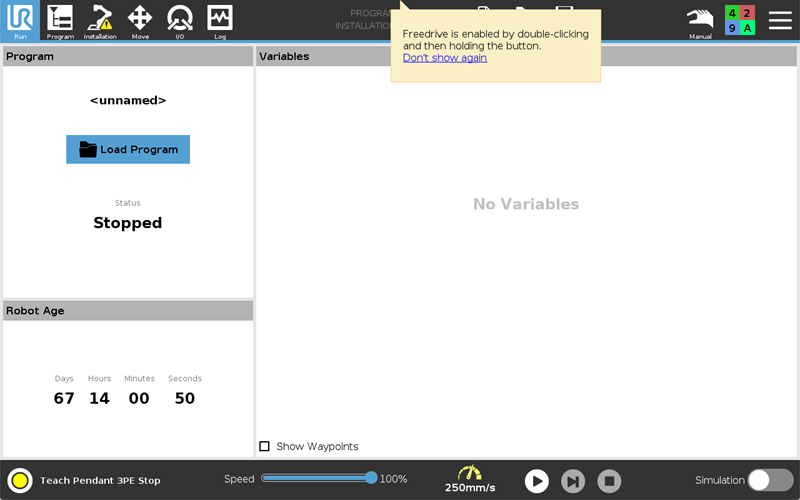 To download the installation guide, go to the Download section of the Support Site or click HERE.