2017-11-13
Universal Robots opens new repair center enabling overnight deliveries in North America
4,300 sq ft (400 m2) center adjacent to Universal Robots' Americas headquarters in Ann Arbor, Michigan, now ready to cover North and South America with repair services, offering overnight delivery of spare parts in North America.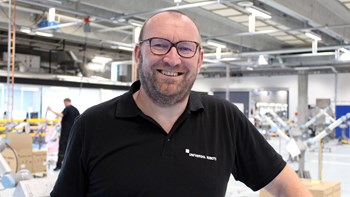 2017-11-03
Universal Robots hires Chris Wilson as Vice President of Commercial Operations
Following rapid global market expansion Universal Robots has announced Chris Wilson as Vice President of Commercial Operations. In his new position, Chris Wilson oversees all commercial support functions.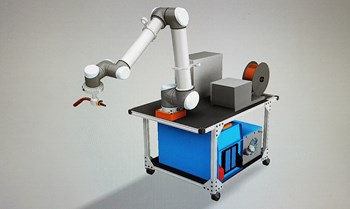 2017-11-01
Universal Robots and ARC Specialties launching MIG welding system at FABTECH 2017 in Chicago
Pioneer of collaborative robots introduces SnapWeld Collaborative Robotic Welding, featuring seamless hardware and software integration through the Universal Robots+ product platform.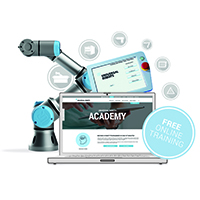 2017-10-13
Universal Robots expands Universal Robots Academy
Universal Robots expands our free online training, adding three new modules that step up complexity by teaching users how to create and work with coordinate systems, variables and conditional statements, and how to use the cobot's wizard to easily create a program for packaging.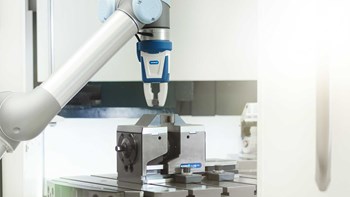 2017-09-26
IFR World Robotics Report 2017
We're dedicated to bringing safe, flexible and easy to use robots to business of every size, all over the world. Find out more about Universal Robots and what we want to achieve here.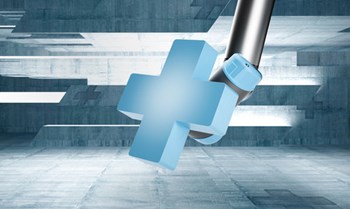 2017-05-31
UR+ rated "Best of 2017"
We're dedicated to bringing safe, flexible and easy to use robots to business of every size, all over the world. Find out more about Universal Robots and what we want to achieve here.

2017-05-15
Universal Robots at the Hanover Trade Fair 2017
Four Universal Robots integration partners provide insights into the broad spectrum of the application potential offered by UR3, UR5 and UR10 at the Hanover Trade Fair 2017.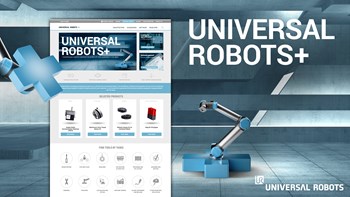 2017-03-16
Universal Robots to show rapidly expanding ecosystem
Universal Robots will exhibit 7th axis capability, new force torque sensors, augmented reality-assisted assembly, and a wide range of other new partner solutions certified to work flawlessly with UR cobots through the Universal Robots+ platform.

2017-03-07
Universal Robots keeps delivering high double-digit growth
Universal Robots has continued its rapid expansion worldwide with a growth rate of 62% from 2015 to 2016. The company that pioneered and commercialized collaborative robot (cobot) technology continues to leverage its first mover advantage and market leadership position.
2017-02-16
Universal Robots launches Universal Robots Academy offering free online training
Universal Robots has developed online training modules to further lower the automation barrier. The hands-on modules are offered free of charge, open to all, and built to deliver hands-on learning via interactive simulations to maximize user engagement.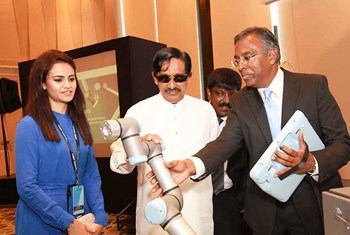 2016-11-10
Universal Robots, Inventors of Collaborative Robots, launches in Sri Lanka
The pristine island of Sri Lanka with its serene Buddhist culture will make-way for a technology pit-stop for one of the world leaders in the concept of 'collaborative Robotics'.
2016-10-03
Ny vd för Universal Robots
Odense, 3 oktober 2016, Universal Robots A/S (UR), ett företag i Teradynekoncernen och världsledande på marknaden för samarbetande robotar, utsåg idag Jürgen von Hollen till vd med omedelbar verkan. Han efterföljer Enrico Krog Iversen som lämnade posten i juni 2016 för att ägna sig åt andra intressen.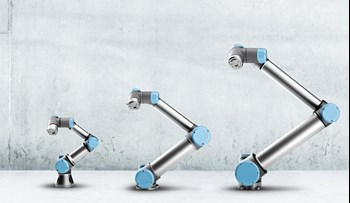 2016-09-29
World Robotics Report 2016 announces collaborative robots as market driver
Universal Robots welcomes new report that documents how "cobots" are now the hottest growth segment in industrial automation with forecasts showing no signs of slowing.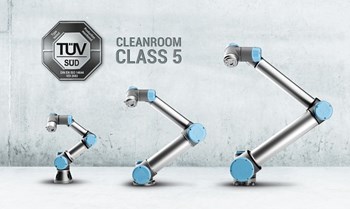 2016-09-23
Universal Robots now certified for applications in cleanroom environments
Universal Robots' lightweight collaborative robot arms can now be implemented in controlled environments: After successful tests in accordance with VDI 2083 Part 9.1, the international industrial guideline, the robot arms and the accompanying controller boxes have been awarded the certification for cleanroom applications by the international certification organization TÜV SÜD.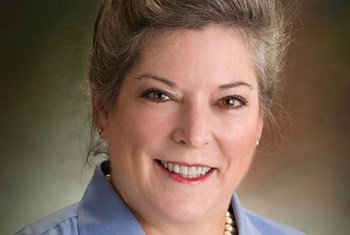 2016-09-09
World renowned robot safety expert joins Universal Robots
Roberta Nelson Shea is Universal Robots' new Global Technical Compliance Officer. She has chaired the U.S. National Robot Safety Committee for 23 years, spent 35+ years within manufacturing automation, and is recognized as a global authority on robot safety - most recently as Convenor of the ISO committee publishing technical specifications on risk assessments of collaborative robots.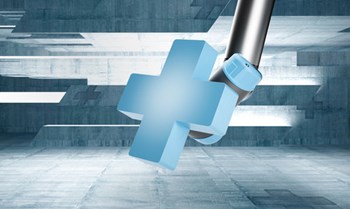 2016-06-21
Pioneer of Collaborative Robots Launches Universal Robots+
Odense, Denmark/Munich, Germany, June 21, 2016:Universal Robots, the Danish pioneer of human-robot collaboration, revolutionizes the automation industry with the launch of Universal Robots+ at AUTOMATICA in Munich. Today, the company presents: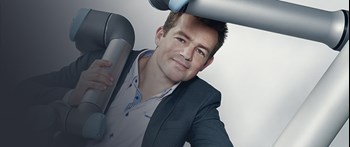 2016-05-17
Cobotarnas historia
År 2008 sålde Universal Robots världens första samarbetande robot (cobot) - långt innan termen myntades för denna växande robotkategori. Vi förflyttar oss fram till 2016 och cobotmarknaden med 50 % i årlig tillväxt är nu det snabbast växande segmentet för industriell robotteknik, med en prognos att uppnå 3 miljarder USD i globala intäkter år 2020.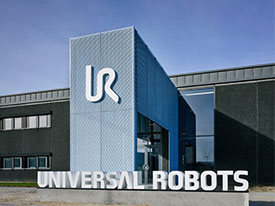 2016-02-24
91 % growth in revenue
Universal Robots' recently published financial statements leave no doubt as to the enormous growth potential of the robot industry. With revenue reaching 418 million DKK in 2015, the Odense-based company achieved 91% growth compared to 2014, while delivering a brilliant bottom line performance: a profit of 65.4 million DKK before tax.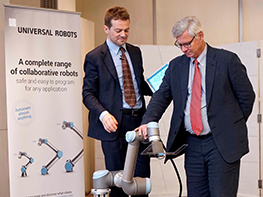 2016-02-18
Universal Robots the Danish pioneer of collaborative robots, launches in India
The Danish Ambassador to India, Peter Taksøe-Jensen launched Universal Robots, the Danish robot manufacturer that pioneered collaborative robots, at the Le Meridian, New Delhi. The collaborative robots range was unveiled in a launch event by Esben Østergaard, Chief Technology Officer of Universal Robots, along with Pradeep David, General Manager, India.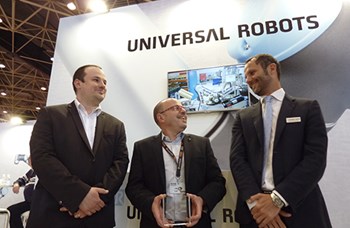 2015-11-11
Universal Robots exhibits at The International Dairy Show
The Danish pioneer of collaborative robots is now reaching out to the dairy markets with lightweight, easy-to-use robotic arms.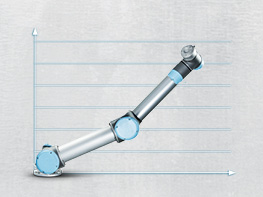 2015-05-13
Teradyne and Universal Robots Announce Agreement for Teradyne to Acquire Universal Robots, Leader in Collaborative Robots
Teradyne and Universal Robots Announce Agreement for Teradyne to Acquire Universal Robots, Leader in Collaborative Robots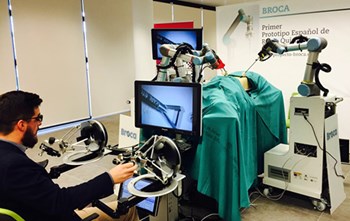 2015-04-01
Universal Robots' UR5 chosen for the Broca Project, the first surgical robot made in Spain
Three UR5 robot arms form an integral part of the project developed by Tecnalia and a team of engineers from Malaga University, which was presented this month at IMIBIC in Cordoba.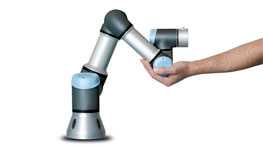 2015-03-17
Universal Robots launches UR3
Universal Robots launches UR3 – the world's most flexible, light-weight table-top robot to work alongside humans

2014-10-08
Meet the next generation of collaborative UR robots at RoboBusiness
Meet the next generation of cobots at RoboBusiness

2014-04-25
Universal Robots to significantly expand production capacity
Universal Robots to significantly expand production capacity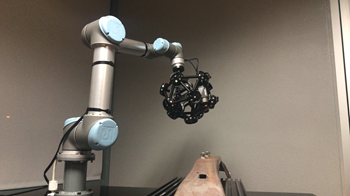 2014-04-24
Your new robot colleague - coming out of its cage
Your new robot colleague - coming out of its cage
2014-01-13
Launch of URCaps: The new platform for UR accessories and peripherals
Launch of URCaps: The new platform for UR accessories and peripherals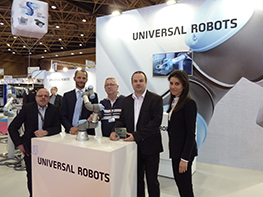 2014-01-08
Meet the next generation of Universal Robots at IMTS
Meet the next generation of Universal Robots at IMTS

2014-01-03
What it takes to be a game changer
What it takes to be a game changer
2013-12-20
Universal Robots Establishes Asia Pacific Headquarters in Singapore
Universal Robots Establishes Asia Pacific Headquarters in Singapore