Company
iQLANDIA Science Center

Industry
Scientific and Research

Country
Czech Republic

Company size
70
iQLANDIA Science Center has been successfully popularizing science for the youth of Liberec, Czech Republic for the last ten years. The science experts turned to Universal Robots for their interactive robot exhibit. The exhibit lets students experience first hand how easy it is to program a UR robot while challenging the notion that robots are unsafe or complicated.
Challenge:
The experts and lecturers iQLANDIA Science CENTER wanted to place a contemporary robot on display to show visitors the great leaps that have been made in robot technology recently. The robot exhibition would have to be able to show how user-friendly robots have become, easy to use and safe to be around, as the Science Center is frequented by primary and secondary schools from all over the Czech Republic. 
Video — UR5 Robot, iQLANDIA Science Center, Czech Republic
Solution:
iQLANDIA chose the robot exhibition Robot Run, built around a UR5 robot. Robot Run is an interactive robot game that lets users control the robot around a maze-like structure. The game highlights and dramatizes the precision of the robot arm, the ease of programming and the wide range of applications that the robot can be tasked with. 
The solution was based on a UR5 robotic arm from Universal Robots. It ensured safe, flexible operation without the need for screens and could rotate 360 degrees – perfect for the interactive game's needs.
The exhibition has become a very popular attraction at the science center and captures the hearts and minds of the over 50,000 young visitors each year.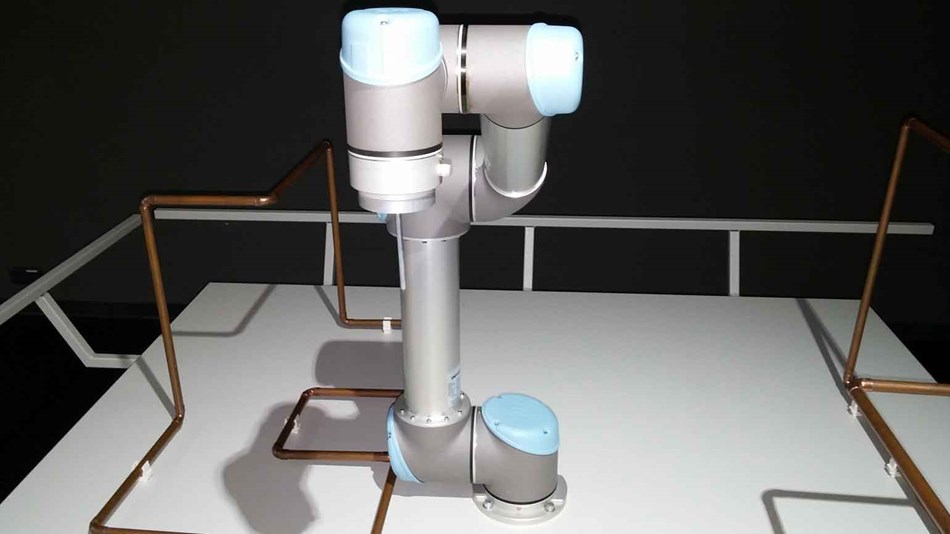 UR5 collaborative robot, iQLANDIA, Czech Republic
---
Automation challenges solved:
Operating the robot arm by the visitors through an interactive game run on a mobile device.
Key Value Drivers:
Easy programming
Collaborative and safe
Fast set-up
Tasks solved by collaborative robots
Presentation skills of modern robot for visitors
---
---
Cost-effective, safe and flexible collaborative robots - or cobots- are making automation easier than ever, even for the small and mid-sizes companies.