Company
TCI New Zealand
Industry
Plastic and Polymers

Country
New Zealand

Company size
100
TCI opted for two of Universal Robots industrial robotic arms, the UR3 and UR5, to perform labelling and assembly tasks, with technicians from Design Energy assisting in the initial programming of the robots so each was operating to TCI's exact requirements.
Challenge:
As one of the largest plastic injection molding companies in New Zealand, Auckland-based TCI has been manufacturing products for a wide range of industries for over 20 years.
From building components used in instrumentation, navigation, rescue and communications, to a wide range of retail products, it has established itself as a globally recognised business. However, in order to compete, TCI needed an automated solution to offer a more cost-effective production process.
With its EsiYo Yoghurt Maker, the company had been paying two employees to work in 12-hour shifts to ensure around-the-clock production. This meant if one employee was unable to work for some reason, the entire production line would have to be halted. This was not a situation the company believed was financially sustainable.
Video — UR3 & UR5 Robot, TCI, New Zealand
Solution:
TCI wanted something that would not only provide a higher level of quality assurance and the ability to better use its staff on less monotonous tasks, it also wanted a solution that would reduce costs.
During its search for an automation solution, TCI came across Universal Robots' technology at a trade show and made contact via Design Energy, Universal Robots' New Zealand distributor, who designed the layout for the new production cell.
The UR3 is a compact tabletop robot weighing just 11kg, able to handle payloads of up to three kilograms and has a reach radius of up to 500mm and 360-degree rotation on all wrist joints – and is ideal for manufacturers like TCI with limited factory floor space and a number of intricate processes.
The UR5, installed following a successful run with the UR3, can handle payloads up to five kilograms and a reach radius of up to 850mm, making it suitable for repetitive and dangerous tasks , or collaborative processes such as picking, placing and testing.
"The robots are easy to set up and reprogramming can take just a few minutes," adds Quintin Fowler, Manager Director at TCI. "However one of the biggest selling points for us is having that guarantee that production can go on 24/7 without us worrying about human related factors that might stop production."
"The robots are easy to set up and reprogramming can take just a few minutes"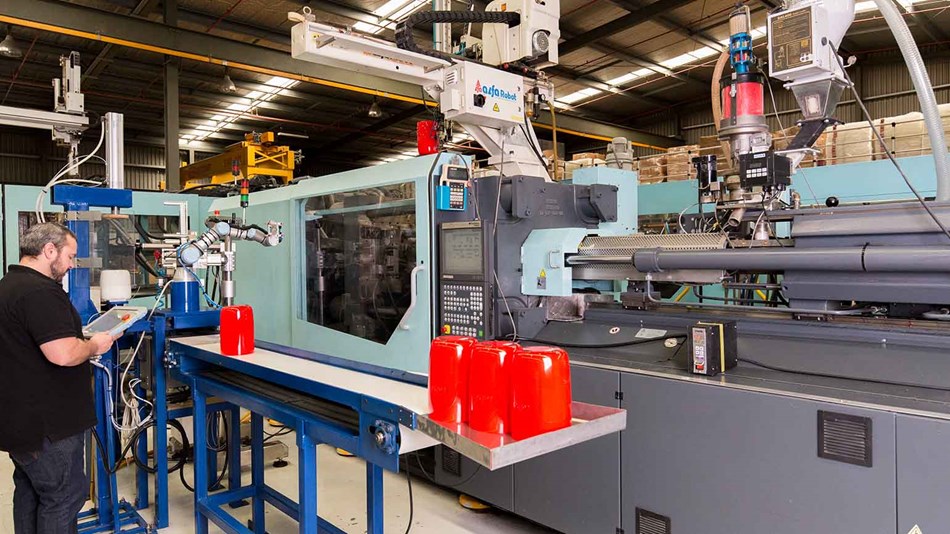 UR3 collaborative robot, TCI, New Zealand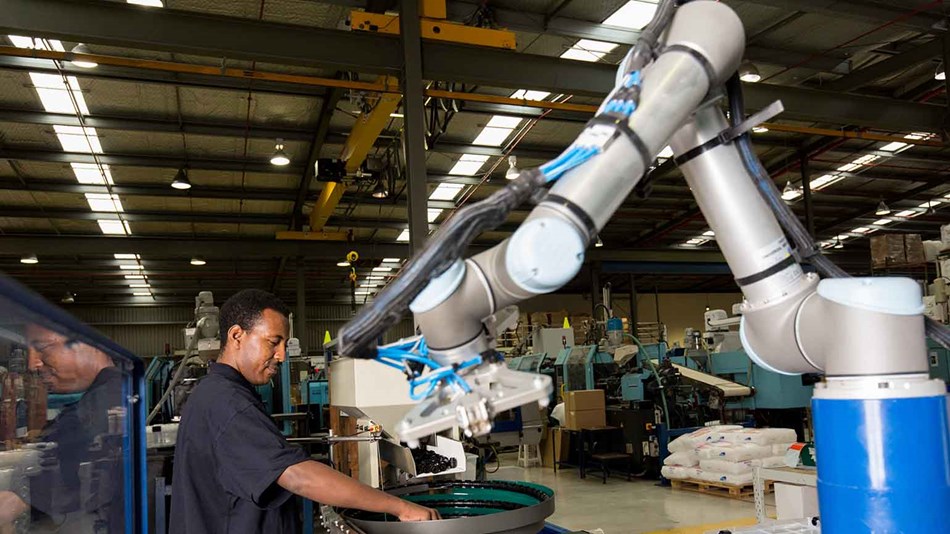 UR5 collaborative robot, TCI, New Zealand
---
Automation challenges solved:
Freeing up staff for less repetitive tasks
Creating more consistent reliable process
Reducing costs
Key Value Drivers:
Easy programming
Fast set-up
Flexible deployment
Collaborative and safe
Tasks solved by collaborative robots
---
---
Cost-effective, safe and flexible collaborative robots - or cobots- are making automation easier than ever, even for the small and mid-sizes companies.