Company
SHAD

Industry
Automotive and Subcontractors

Country
Spain

Company size
201-500
Shad, a European leader of accessories for motorcycles, incorporated their first UR5 in their Mollet de Valles facility, optimizing their production line and improving the work environment of their employees.
Challenge:
SHAD has been growing steadily during the past few years and has been looking for a robot solution to handle increased demand. The solutions that SHAD had seen were not geared towards smaller production runs and were not economically viable as a 'one-function' robot as the SHAD product range was always changing.
Video — UR5 Robot, SHAD, Spain
Solution:
The Universal Robots UR5 meets the needs of SHAD perfectly. Not only was it able to be moved around the production facility as needed, it could also be reprogrammed to handle the current demands of the business.

The company chose the UR5 to optimize their production process, because of the ease of use and for the ability to work without the need for expensive fencing.

The six-axis UR5 works shoulder to shoulder with the operators in a shared space, freeing them from repetitive tasks, including assembling the suitcases. This improves the quality and production time, while improving the work area.
"The installation of the robot represents a leap forward in the production technology that helps us deliver a better work environment, a higher quality product, and at the same time helps us minimize the costs"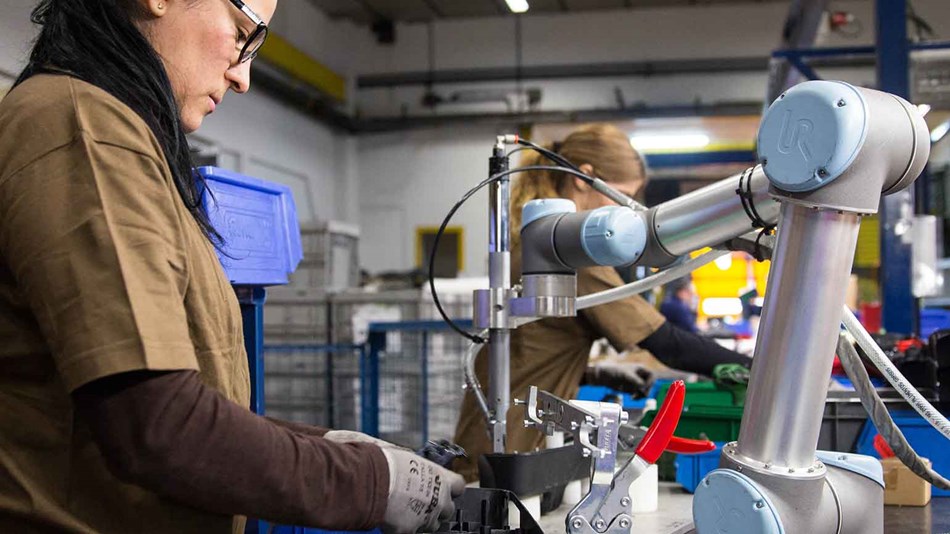 UR5 collaborative robot, SHAD, Spain
UR5 collaborative robot, SHAD, Spain
---
Automation Challenges Solved:
Improved the quality of the products.
Relieving employees of repetitive tasks.
Key Value Drivers:
Easy programming
Collaborative and safe
Fast set-up
Flexible deployment
Tasks solved by collaborative robots
---
---
Cost-effective, safe and flexible collaborative robots - or cobots- are making automation easier than ever, even for the small and mid-sizes companies.