IZOELEKTRO USES A UR COLLABORATIVE ROBOT TO MEET CUSTOMER DEMAND IN A COST EFFICIENT MANNER

Company
Izoelektro d.o.o.

Industry
Electronics and Technology

Country
Slovenia

Company size
8
IZOELEKTRO D.O.O. IS A QUICKLY GROWING MANUFACTURER FROM SLOVENIA (EU) THAT PROVIDES PRODUCTS INTENDED FOR MAINTENANCE, RENEWAL AND SET UP OF ELECTRO-ENERGY SYSTEMS. THE KEY PRODUCTS PORTFOLIO INCLUDES LOW, MEDIUM VOLTAGE SURGE ARRESTERS, TENSION COMPOSITE INSULATORS, POST COMPOSITE INSULATORS, JUNCTION AND SUSPENSION EQUIPMENT AND CONNECTING SLEEVES.  THE UR HELPED TO SHORTEN THE PRODUCTION TIME OF PRODUCTS AND AT THE SAME TIME LOWER THE PRODUCTION COSTS. THE PRODUCTION TIME AND TESTING TIME OF ONE PRODUCT IS MUCH FASTER WHICH REDUCES THE PRODUCTION COSTS OF PRODUCTS. MOREOVER, THE ROBOT ELIMINATES ERRORS THAT CAN BE MADE BY A HUMAN FACTOR.
Challenge:
The ability to quickly adapt to the customers immediate requirements and needs is one of main challenges of Izoelektro. It is necessary to create specimens, certificate a product and proceed with its regular production for known customers in the shortest possible time. The company also uses the maximal competitive advantage from the fact that it sells directly to consumers, with no distribution channel between.
"The biggest challenge for us is to fulfil our customers' demands in a cost efficient manner," said Tadej Kovač, development manager in Izoelektro. "Because all over the world companies are optimizing their processes in production we started considering automatization of our processes.  Robots are the future and especially in the electric components manufacturing we face strong every day competition, so we started looking for suitable robotic solution."
Video — UR5 Robot, Izoelektro d.o.o., Slovenia
Solution:
The UR5 robot works in product testing processes, as all products must be 100% tested, and the company wanted to leave this time-consuming task of testing automated. Using the Robotiq gripper the robot overtook mainly long-term repetitive tasks leaving employees to concentrate on more important and valuable tasks. Until now the customer is very pleased with its functionality and they plan to add even more robots to our production in the future.
The robot made a huge difference in Izoelektro production. A robot can work for eight hours straight in one shift with a constant efficiency, which cannot be achieved by any person the whole time. The production time and testing time of one product is much faster which reduces the production costs of products. Moreover, the robot eliminates errors that can be made by a human factor.
"In our company we all see and feel changes of our industry that focuses more and more on automating production processes. Though we are a small company, we did not want to stay behind this trend and when we met Universal Robots, we knew this was the right solution for us. After an easy implementation, we started to use UR5 robot very quickly and could get immediate results: better quality, higher productivity and fewer risks for our employees."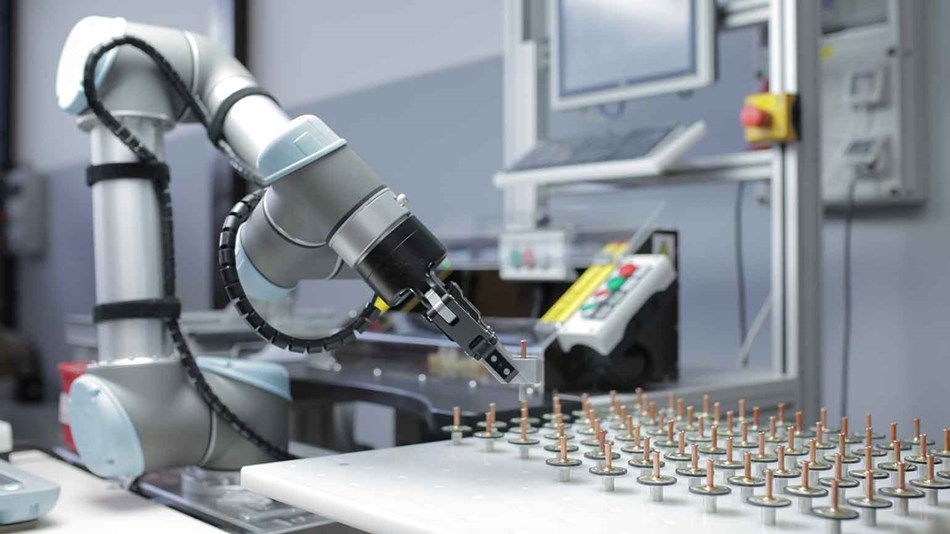 UR5 collaborative robot, Izoelektro d.o.o., Slovenia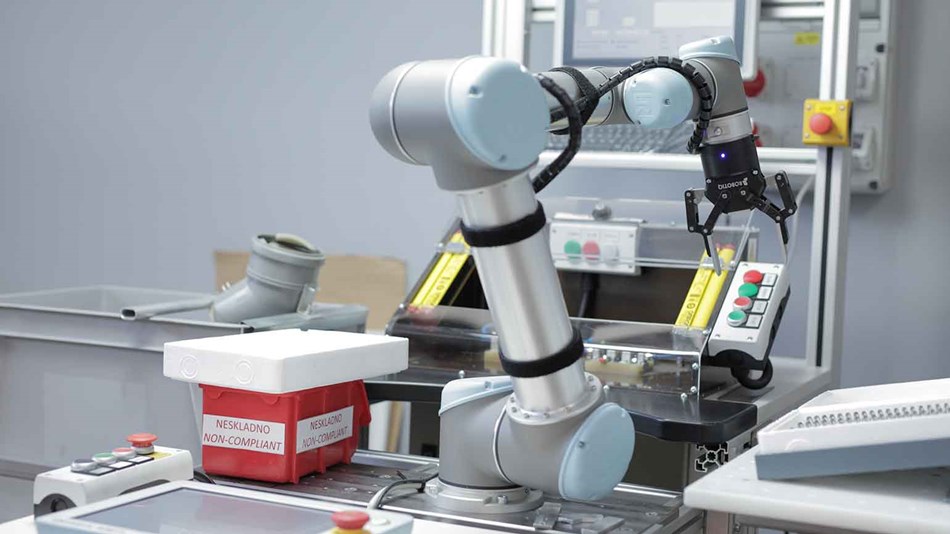 UR5 collaborative robot, Izoelektro d.o.o., Slovenia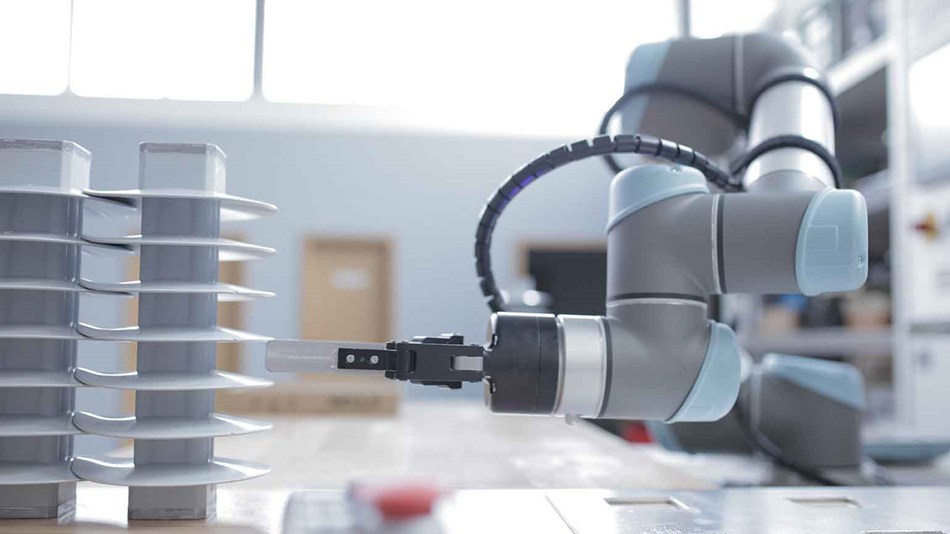 UR5 collaborative robot, Izoelektro d.o.o., Slovenia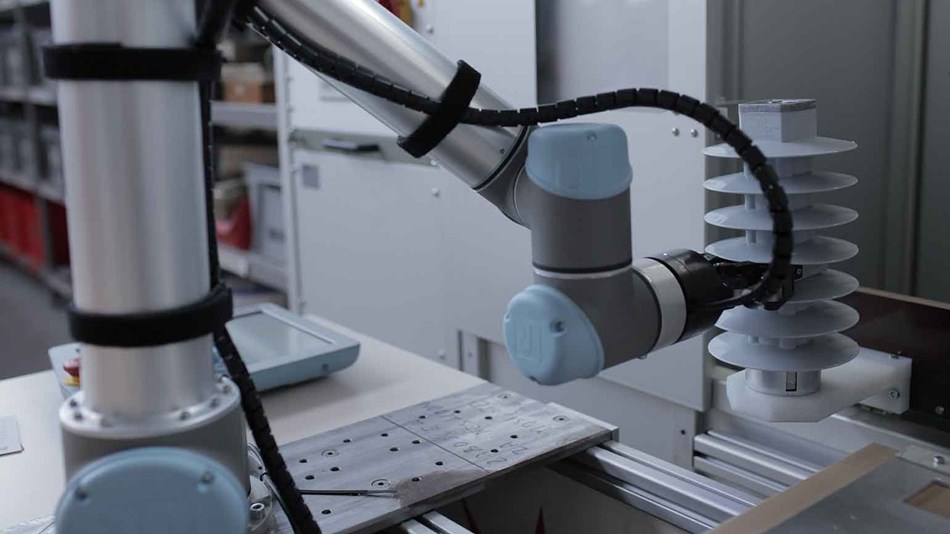 UR5 collaborative robot, Izoelektro d.o.o., Slovenia
The UR helped to shorten the production time of products and at the same time lower the production costs. Other important benefits include an increase of product quality, productivity growth, and more safety working conditions for employees. And the bottom line is the fast ROI: Izoelektro estimates the time for repayment will reach between 18 and 24 months.
---
Automation challenges solved:
Deployment of automation technology for affordable costs
Work with constant efficiency
Speed up product testing processes
Reduction of demanding repetitive manual work
Faster adaptation to customers immediate requirements
Fulfil customer demand
ROI: 18 – 24 months
Key Value Drivers:
Saving manual work of one worker for 8 hours a day
Unmistakable and consistent precision of repeatedly performing repetitive work during the whole shift
Keeping workers in the surroundings of the robot does not pose any danger
Reducing workers injuries as the robot also can perform dangerous tasks
Shortening production time of products
Lowering the production costs
Tasks solved by collaborative robots
Machine tending
Lab Analysis and Testing
Assembly of the core of tension and post line composite insulators
---
---
Cost-effective, safe and flexible collaborative robots - or cobots- are making automation easier than ever, even for the small and mid-sizes companies.