Franke increases productivity with collaborative robots while boosting employee job satisfaction.

Company
Franke Küchentechnik AG

Industry
Furniture and equipment

Country
Switzerland

Company size
11,000
Swiss kitchen manufacturer Franke wanted to streamline its production of kitchen sinks to reduce costs and boost competitiveness. They chose a UR5 robot to help with repetitive, low-impact production tasks within a confined area. The UR5 solution has performed above all expectations and helps produce 10,000 units per year.
Challenge:
Franke produces kitchen over 10,000 kitchen sinks per year. After the aluminum sink unit is pressed, mounting blocks are glued to each side. The repetitive task could be automated, saving glue and reducing the likelihood of human error when gluing the mounting blocks.
The key challenge was identifying a solution that could dispense the glue and attach the mounting blocks on all sides.
Video — UR5 Robot, Franke Küchentechnik AG, Switzerland
Solution:
The solution was based on a UR5 robotic arm from Universal Robots. It ensured safe, flexible operation without the need for screens and could rotate 360 degrees – perfect for the challenge of mounting the blocks on all sides.
The UR5 solution delivers pinpoint precision and uses only the pre-specified amount of glue for each join. This saves Franke on unusable/damaged stock and wasted materials.
By leveraging a UR5 solution from Bachmann Engineering, Franke has freed up valuable company resources. Now, employees can add value to other steps in the production process while boosting their overall job satisfaction by giving them more interesting and varied tasks.
The UR5 entered production November 2011 and has operated non-stop ever since. Franke is now studying ways of deploying UR robots elsewhere to work side-by-side with the personnel.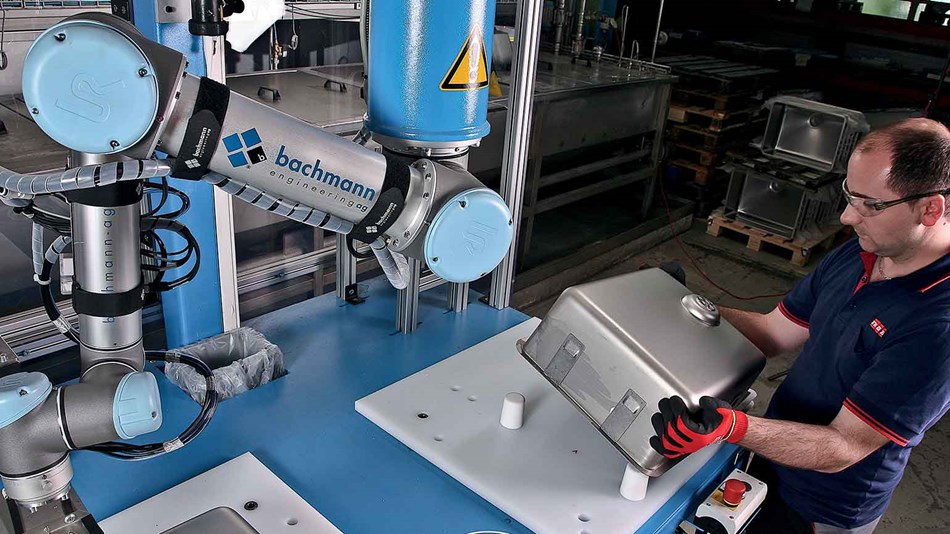 UR5 collaborative robot, Franke Küchentechnik AG, Switzerland
---
Automation challenges solved:
Relieved employees of strenuous, repetitive tasks while improving the operational efficiency of the production line.
Reduces material waste.
Key Value Drivers:
Easy programming
Collaborative and safe
Fast set-up
Fast Payback
Tasks solved by collaborative robots
---
---
Cost-effective, safe and flexible collaborative robots - or cobots- are making automation easier than ever, even for the small and mid-sizes companies.