Company
BOOG

Industry
Automotive and Subcontractors

Country
France

Company size
15
BOOG Machining Company was looking for an automation solution that could quickly and easily be programmed and deployed into various stages of production – while improving the daily lives of employees. BOOG chose a UR5-based solution because of the flexibility and intuitive touch screen interface. The UR5 has now been joined by two other UR5s - boosting productivity and improving workplace safety across the business.
Challenge:
The BOOG Machining Company specialises in short production runs of small milling, turning and machining parts. In order to increase productivity, they were looking for automated production equipment that could quickly and easily programmed to perform a wide variety of tasks.
BOOG were also looking for ways to prevent and reduce work-related health problems because of production tool operation. BOGO wanted a user-friendly, affordable and re-deployable robot that was viable for small-business environments and applications.
Video — UR5 Robot, BOOG, France
Solution:
BOOG selected a UR5 robot due to its ability to handle small parts (weighing less than 5 kg). The UR5 allows BOOG to streamline the production process dramatically and now has an employee load and unload the machine every three hours – instead of having the machine constantly monitored as before. This frees up valuable resources to add value to other stages in the production by taking on multiple tasks.
It also helps to prevent employee injury as the robot handles small, sharp pieces that can cause accidents when handled improperly
"In a record time of half a day's training, all operators were able to learn how to use the management software and to reprogram the robot. The UR5 robots are really easy to program and to reprogram thanks to their touch screens, intuitive graphic interface and management software"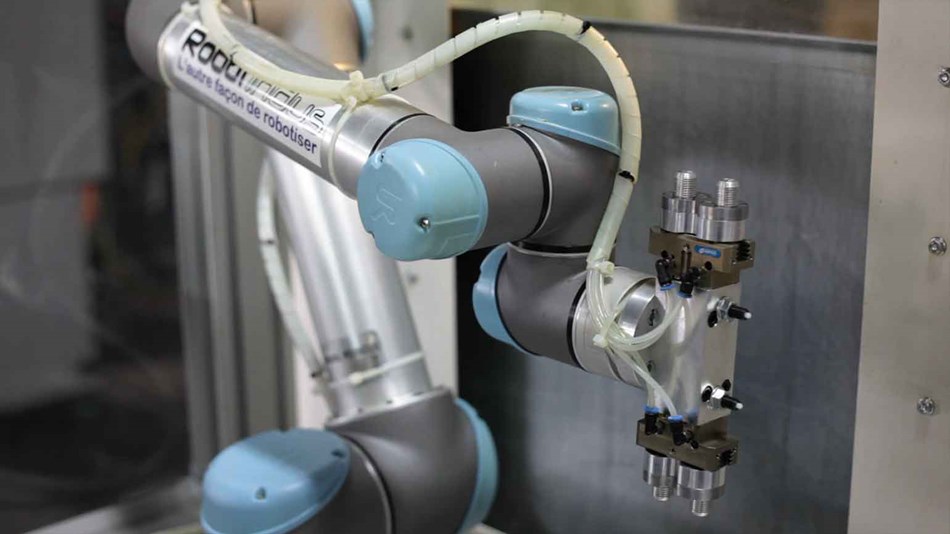 UR10 collaborative robot, Atria, Sweden
Since the installation of the first Universal Robots robot in late 2011, BOOG no longer faces problems of production downtime due to human/robot interaction and has added two additional UR5 units to the production chain. 
---
Automation challenges solved:
Relieved employees of strenuous, repetitive tasks while improving the operational efficiency of the production line.
Payback period: 365 days.
Key Value Drivers:
Easy programming
Flexible deployment
Fast set-up
Collaborative and safe
Tasks solved by collaborative robots
---
---
Cost-effective, safe and flexible collaborative robots - or cobots- are making automation easier than ever, even for the small and mid-sizes companies.