2003
The company's three founders, Esben Østergaard, Kasper Støy and Kristian Kassow, meet at University of Southern Denmark in Odense. Together, they came up with the idea of creating a light robot that is easy to install and program while analyzing the special requirements for robots in the food industry. They could see that heavy, expensive and unwieldy robots dominated robotics and that there was a market for a more user-friendly option.
2005
Universal Robots was officially founded in 2005, with the goal of making robot technology accessible to small and medium-sized enterprises. The establishment of the company was made possible by an investment by Syddansk Innovation.
2008
The Danish State Investment Fund was convinced of Universal Robots' potential and joined the management team and Syddansk Innovation in investing in the company. The first UR5 cobots are sold by distributors in Denmark and Germany.
2009
Universal Robots' first product was the UR5, a six-jointed articulated arm robot that revolutionised the market for industrial robots. The UR5 weighs 18 kg, has a lifting capacity of up to 5 kg and a working radius of 85 cm.
2010
Universal Robots has expanded its business to include all of Europe.
2011
Universal Robots enters the Asian market and establishes a local office in China.
2012
Universal Robots' UR10 is launched. It's targeted towards larger tasks with a lifting ability of 10 kg and a reach of 130 cm. The company also establishes an American subsidiary, based in New York, USA.
2013
Universal Robots establishes a new subsidiary in Shanghai, China, and also establishes a distributor network in South America and Oceania.
2014
The company moves to its new headquarters on Energivej in Odense, Denmark, and expands its production area to a massive 12,000 m2. The third generation of the lightweight robot arms, UR5 and UR10, is introduced with a variety of new features at the AUTOMATICA Show in Munich, Germany.

Universal Robots also establishes a subsidiary in Barcelona, Spain. 

With eight new adjustable safety rated functions, Universal Robots' robot arms are the only robots in the world that intelligently adapt advanced safety settings to each specific application.

2015
A new UR subsidiary for the APAC region opens in Singapore.
Universal Robots launches UR3 – the world's most flexible, lightweight table-top robot to work alongside humans. The new 3 kilo payload robot for light assembly tasks and automated workbench scenarios is presented at trade shows in China, USA and Germany.
Universal Robots is acquired by US company Teradyne for US$285M. Teradyne is the leading supplier of automated test equipment used to test semiconductors, wireless products, data storage, and complex electronic systems. Universal Robots continues operations under same management while UR's headquarters, R&D, and production facilities remain in Odense, Denmark.

2016
Regional offices open in Delhi and Bangalore, India, Munich, Germany, and Prague, Czech Republic.
Universal Robots presents Universal Robots+: A unique ecosystem that adds value for the developer community, distributors and end end-customers. Universal Robots+ unites the UR+ Developer Program with a showroom for presenting innovative Plug&Play applications.
2017
Universal Robots offers free online cobot training: The Universal Robots Academy is launched to further raise robot literacy. It consists of nine free-of-charge e-learning modules that make up the basic programming training for UR cobots. This includes configuring end-effectors, connecting I/Os, creating basic programs in addition to applying safety features to an application.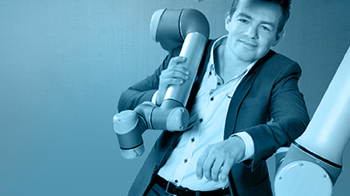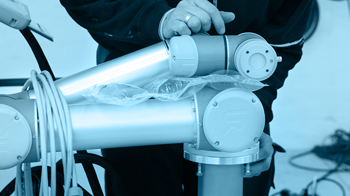 Working at Universal Robots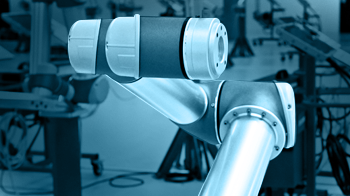 See latest news from Universal Robots