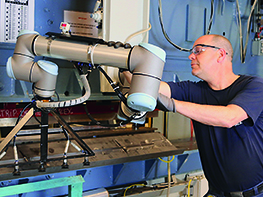 15.02.2016
Nye retningslinjer for hvordan man ivaretar sikkerheten til personer som arbeider med samarbeidende robotsystemer, har nå blitt publisert av ISO. Universal Robots var en del av utvalget som skisserte ISO/TS 15066-spesifikasjonene, og ser det nye dokumentet som et solid grunnlag for fremtidig arbeid på dette området.
13.05.2015
Teradyne and Universal Robots Announce Agreement for Teradyne to Acquire Universal Robots, Leader in Collaborative Robots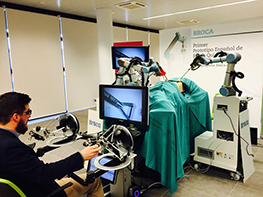 01.04.2015
Universal Robots' UR5 chosen for the Broca Project, the first surgical robot made in Spain
Three UR5 robot arms form an integral part of the project developed by Tecnalia and a team of engineers from Malaga University, which was presented this month at IMIBIC in Cordoba.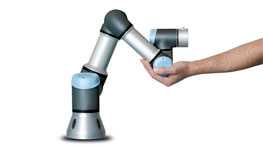 17.03.2015
Universal Robots lanserer UR3
Universal Robots lanserer UR3 – verdens mest fleksible, lettvekt bordrobot for arbeid side-om-side med mennesker Den Danske pioneren innen samarbeidsroboter har utviklet en ny, mindre robot for enkle oppsett og automatiserte oppgaver på arbeidsbenker. Denne lanseres på Automate 2015-konferansen i Chicago, USA 23. Mars.
12.02.2014
Universal Robots expands distribution in Eastern and Western United States
26.02.2014
Universal Robots is moving to a new location in Denmark
24.04.2014
Your new robot colleague - coming out of its cage
25.04.2014
Universal Robots to significantly expand production capacity
05.06.2014
USA: Universal Robots Builds Momentum in Mid-Atlantic Region
10.08.2014
Meet the next generation of collaborative UR robots at RoboBusiness