September/23/2016
Universal Robots now certified for applications in cleanroom environments
Cleanroom Classification of our Collaborative Robots
 Universal Robots' lightweight collaborative robot arms can now be implemented in controlled environments: After successful tests in accordance with VDI 2083 Part 9.1, the international industrial guideline concerning the various functions and measures of cleanroom technologies, the robot arms and the accompanying controller boxes made by the Danish pioneer in human-robot collaboration have been awarded the certification for cleanroom applications by the international certification organization TÜV SÜD. In compliance with the industrial norm ISO 14644-1, the robots UR3, UR5 and UR10 are now authorized for the global use in cleanroom environments of the cleanroom class ISO 5. The controller box, in turn, has received authorization for cleanroom class ISO 6. The controller box may be upgraded for deployment in cleanrooms requiring the class ISO 5 with a few technical modifications. In the Federal Standard 209E, often referenced in the USA, ISO 5 and ISO 6 are the equivalent of class 100 and class 1000 respectively.
"This certification will pave the way for a great number of new application opportunities for our robots", says Esben H. Østergaard, CTO and co-founder of Universal Robots. "We have taken another important step towards making our affordable and user-friendly collaborative robots accessible for companies of all industries and sizes."
TÜV SÜD's test seals for Universal Robots' robotic arms and controller boxes now allow the deployment of UR robots in areas where aspects regarding purity and hygiene – such as particle emission, easy-to-clean surfaces and extreme reliability – are decisive criteria for precise automation processes. "UR robots can now increasingly be deployed in laboratory automation as well as throughout the medical and pharmaceutical sectors. There is also a significant variety of cleanroom applications in the food industry, the production of microchips and semiconductors as well as in the electrical and opto-electronical industries that can now implement our robots", says Østergaard.
About Universal Robots
Universal Robots is the result of many years of intensive research at Denmark's successful robot cluster, which is located in Odense, Denmark. The company was co-founded in 2005 by the company's CTO, Esben Østergaard, who wanted to make robot technology accessible to all by developing small, user-friendly, reasonably priced, flexible industrial robots that are safe to work  with and  on their own can be used to  streamline processes in the industry. The product portfolio includes the collaborative UR3, UR5 and UR10 robotic arms named after their payload in kilos. Since the first UR robot launched in December 2008, the company has experienced considerable growth with the user-friendly robots now sold in more than 50 countries worldwide. At just 195 days, the average payback period for UR robots is the fastest in the industry. The company, a part of Boston-based Teradyne Inc., is headquartered in Odense and has subsidiaries and regional offices in the U.S., Spain, Germany, Singapore, Czech Republic, India, and China. Universal Robots has about 300 employees worldwide. Learn more at: www.universal-robots.com, www.universal-robots.com/plus/ and on the company-owned blog.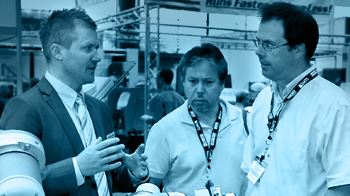 Want to meet us at an exhibition?